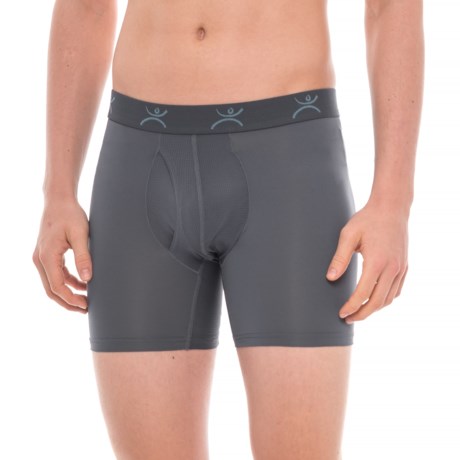 Not in my experience.

I have not had any issues with that, although I don't run due to a foot surgery gone amuck.

I buy Terramar underwear specifically because they do not ride up while running, biking, and working out.

I am answering what I think is the intended question, "Do these ride UP while exercising". I wear them to the gym where I work out, ride a bike and use the elliptical with no ride up. They are not quite compression shorts, but they do provide warmth in the winter. I do wear them around the house without any problems. Probably will not wear them in warmer weather.

I no longer run - both knees replaced - however I do ride an Arc Trainer and work out doing a variety of exercises.

These underwear are the best I have owned - they are great. No ride up. Hold their shape. True to size.

If you mean between the buttocks, NO. very comfy. No riding up the front either. They served me well on a 6 day camping trip where I wore them almost everyday and washed them in the river then dried in the sun and wind. I like them alot!

the waist band is a bit higher than i would prefer. so if i jack them up high, the waistband can roll over. however, few times do i jack them up. i use these exclusively for hiking, biking, working out, etc. they are great for that purpose. they do not ride up at all. great briefs. i bought several.

No

No, and I've done both. They are the most comfortable boxer briefs I've owned. Supportive but not restrictive.

they ride up a little but not enough to be bothersome.

CJ, I wear them for every day and i really like them. They ride up very little; much better than other boxer briefs I have had. I bought 7 more pair after I tried out my first. Be sure to get a pair of lime green. They are snazzy!

I don't work out in them, but I wear them to work and I am moving around a lot and they don't ride up.

I am not a runner, however, they do not ride up when working out, very comfortable all-around.
I would highly reccomend.