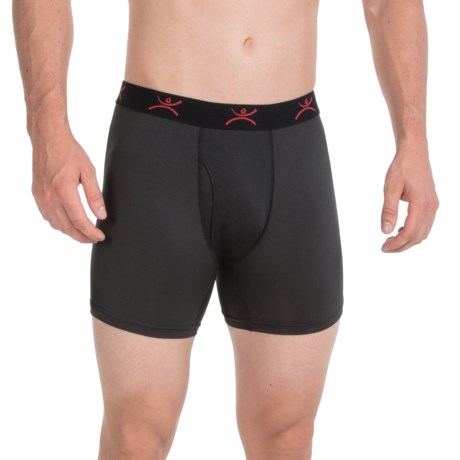 It does indeed! Very comfortable underwear, does what they say about odor management, proper support, gives with you, retains shape & fit for as long as you wear them. I have traveled with these & got along quite nicely with an evening wash in the sink. Not a "5 for $10" pair of shorts, but worth the extra bucks. I have not had mine long enough to truly comment on wear properties, but the 4 or 5 months I have show no signs of wear & tear....I believe they will hold up well.


Yes...these are very comfortable briefs...they stretch and have a quick dry type of fabric.

yes, it opens with no problems for me

Yes - the fly opens!

yes it opens

It does not.

Yes it does.

Yes. The fly opens. It's actually very well designed. It provides easy access, unlike some athletic underpants that require some effort to extract the...but it also doesn't gap open like others. Very comfortable fabric, too.

Yes.

No, I think it is pretty secure

yes

Yes (easily)


Yes

yes, it has a fly that opens.

Yes it does. In fact the baxers are made to be refersible.

Yes there is.