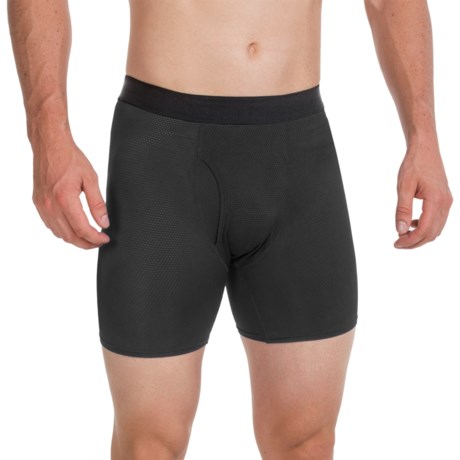 Great Product!
Reviewed by Good Guy Aaron from North Carolina on Sunday, August 11, 2013
As the review title states these are awesome! I have made a slow transition as I've gotten older and more knowledgable about what I should wear down there. The progression has moved through whitey tighties to boxers to bikini briefs! to boxer briefs. Boxer briefs were the underpants of choice for a long stretch of time. I cycled through only a couple pairs at a time until they would wear through the gutch area to the point of nothingness. They would become loin-clothes before I would throw them out lol. Two years ago I was signed up for a mountaineering course that had an extensive personal packing list. There were many required clothing items for warmth, all of which needed to be a non-cotton material. The saying is "cotton kills" because of the materials effect of cooling the body when wet and the combined long dry time.

So I invested in two pairs of these Terramar sensations! Two undergarments, two years later they are just now wearing out! I have practically worn these two pair of underclothes everyday for the past two years (despite the occasional free ballin). I use them for every day use, workouts, biking (lot of friction going on there), running, etc. This longevity trait combined with the fairly quick drying, lower smell than most others, comfort and relatively inexpensive price tag make these the best non-cotton boxer brief undies out there! Hope they support you as well as they have me!

Happy shopping!
Most helpful negative reviews
Similar items and more information in the following areas: