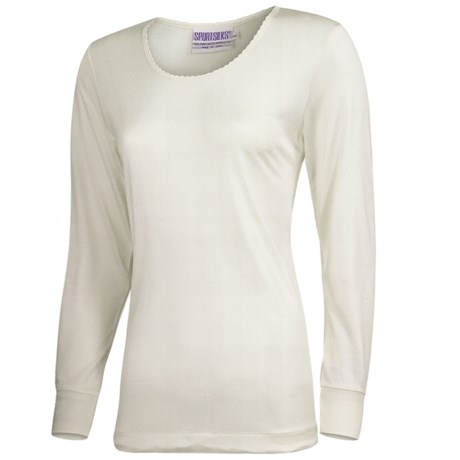 Order true to size. It will fit snug. If you order larger it will be looser. They fit snug to keep you warm.

I would order a size up.

No, I wouldn't. The fit isn't snug but does have some curve to it so that there isn't excess fabric around the waist. If you don't have a waist, you may want to order a larger size, though, since it does have some shaping to it.

I ordered my regular size and it fits fine. Mine is loose, not body hugging.

I found it to be true to size. If it's too big, it's hard to wear it under other layers of clothing.

The underwear is made of very light and somewhat stretchable silk. It will therefore fit snuggly and will be totally unconspicuous under clothing. If you buy a larger size, it might be a bit big (depending on your body frame), but my own experience is that washing the underwear by machine reduces the size lightly. I started buying this product about 20 years ago and was delighted to discover that it is still being made in 2010. In my view, it's the best thermal top underwear on the market.

Depends on what you want. I wanted to wear it almost like you would a camisole - to show a little but still stay warm. It doesn't feel tight, as the silk fabric is stretchy, but if you'd like it real loose, it's best to order the next size up.

If you want to just wear it as pajamas, then you can order a size up and it will baggy (but not as warm). Your true size will fit snug --which does not mean uncomfortably tight -- and you then can wear it under your clothes as a warm, absorbent first layer.