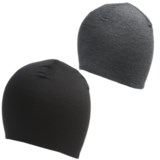 Closeouts. Terramar's Thermawool reversible beanie is simple, comfortable and made from moisture-wicking, temperature-regulating, quick-drying merino wool.
Average Rating based on
30
reviews
4.400000
0
5
Reviewed by PTEP from NOVA on Tuesday, November 10, 2015

It's a little tight on larger heads, and I find that as I'm running that it tends to rise up slowly, and I find myself readjusting it quite a bit. Not a deal breaker though. It definitely serves a purpose and was well worth the money spent on STP.

Verified Buyer

Reviewed by Chelsey from VA on Tuesday, October 20, 2015

Used this on a weekend hike where day temps were in the 50s and night temps were low 30s. Did everything I needed it to. Kept me warm while hiking and shielded my ears from harsh mountain winds. As a bonus, it weighs only 1.5ozs. I foresee this being an indispensable part of my backpacking gear list from now on.

Verified Buyer

Reviewed by Madison Biker from Madison, WI on Friday, August 28, 2015

This hat is exactly what I was looking for, which was a thin light wool hat that could be worn in a variety of weather conditions. It hasn't been cold enough to truly test it yet, but we have had temps down to about 50 recently, and I wore it in those conditions and it was great, and I really think it would be okay down to around 30 or so as a standalone hat. It breathes really well, and does a good job regulating your temperature. I tend to run hot, and normally would never wear a hat in 50 or 55 degree weather as I would get too hot, but that is not a problem with this hat.

It is also very stylish, both colors look good, but especially the grey. It is plenty big to cover your ears and neck. Some other reviews mention it being too small, or seams ripping from it stretching, this has not been my experience. I have a large head, not huge but above average, and it fits me great, and should definitely fit someone with a larger head than mine. So unless you have a truly extra large head, I wouldn't worry about the size.

Overall this is a great hat, and the price is really good for an all wool hat. The only thing to know is that it is a thin hat, this wouldn't really be appropriate for being out and about in below freezing temps for most people. Unless you intend to be doing a high intensity activity, then it should be great. I bought it for winter bike riding when the temps are around freezing but not extremely cold, and i think this will work fantastically.

Verified Buyer

Reviewed by Shua from Oceanside, Ca on Saturday, February 7, 2015

This is not the best and its not the worst. For $9 on sale it is a good merino wool beanie and the material feels great. I really like terramar clothing and this is on par. For the price they can't be beat. Compared to icebreaker it is not as thick of a material. As other reviews stated when I put it on I heard some stitching pop but did not see any places where the seams came apart. I have a really small head and it fits. Probably not good for someone with a big head.


Reviewed by swat8888 from Alaska on Tuesday, January 27, 2015

First off I love this thing. I am bald, and most beanies itch like crazy, even thicker merino ones. I am very picky with headwear and I think this hat fits perfect. I would prefer if it were just a solid color as it kind of folds up after a few washes and you can see both colors at the edge....no big deal but a little annoying. I also had my stitching come apart after probably three months wear and 4-5 washes.

Verified Buyer

Reviewed by Quinn from Midwest USA on Sunday, October 26, 2014

purchased for cold weather cycling. Fits well under my helmet. Looks OK too!
Comfortable, warm, good deal.

Verified Buyer

Reviewed by Diana from Montana on Wednesday, October 1, 2014

Seems to stay over my ears and can feel the warmth for being so thin. I got this hat for cold weather running and to wear as a liner with my current hats that aren't ear-snug. I think it's going to be great!

Reviewed by OhMiSam from Oh-high-yo on Sunday, February 2, 2014

Love this hat. I have two; one for work and one for play. The hat is thin and stretchy, perfect for wearing as a liner under my hard hat at job sites. The merino wool is soft and does a great job of regulating temperature. It's great for running or snowshoeing in cool to very cold conditions as well.

Reviewed by SC running mom from Travelers Rest, SC on Thursday, January 23, 2014

This was a gift for my nephew who lives in CO and likes to snowboard. Of course, my husband and I opened it and tried it on... then we sent it on. It was soft, nicely elastic and fit well. Very nicely made.

I almost kept it and sent him a gift card.

Reviewed by Chan from Utah on Saturday, December 14, 2013

Soooo, I got a great deal on this hat, and it really is a perfect for running in cold weather ... BUT, the first time I put in on my head, I heard some popping. So then I pulled it off and stretched out the hem and heard a lot more popping. About half the stitching at the hem immediately blew out with no more stretching than that required to put it on my head (which isn't abnormally large). No other reviewers seem to have had this problem It's out of stock now, so I don't know if I should keep it and run some stitching around the hem or send it back.