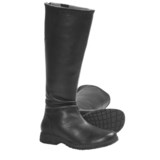 Closeouts. Sleek and supple leather steals the show when you're in Teva's Afton boots, featuring a subtly slouchy detail around the ankle and an elastic calf panel for the perfect fit.
Average Rating based on
30
reviews
3.200000
0
5
Reviewed by Natty from Chicago Illinois on Tuesday, December 13, 2016

Omg love these boots specially when I have wide feet these are great the scuffle thing on the top fit me perfectly i really recommend these product is expensive but worth it

Verified Buyer

Reviewed by Tam from NJ on Tuesday, April 22, 2014

I could barely get my feet in these. Very disappointed. Also kind of looked cheap. Not like pictures

Verified Buyer

Reviewed by Marjo from Massachusetts on Thursday, April 10, 2014

These boots are very beautiful, but did not fit me well, They seem to run narrow in the toes and wide in the heels- just opposite of how my feet "run". They are very high, and would be great for someone who has very long legs, which I don't. When I sat, the tops of the boots cut into the back of my thighs, and when I went up the stairs, the same thing happened. I reluctantly exchanged them, because they are very beautiful and feel very nice and supple. The back zipper presented a bit of a problem as well, because my socks got caught in it. I prefer a side zipper. The tops of the boots were a bit wide, too, but then again, that could be just the way they fit me.

Reviewed by black boot snob from Philadelphia on Thursday, April 3, 2014

I almost didn't buy these boots because the reviews make them sound super poorly designed and painful. I really like mine. They were hard to get on the first few times- but aren't a problem now. I have pretty narrow calves, and they look find with jeans and leggins- also even though the soles are rubber, they're a good compromise between causal and dressy. I'm pretty into them.

Reviewed by Paula from MN on Thursday, February 27, 2014

The look and leather of these boots is nice but I should have read all the reviews first. The size 8 fits me fine. But these boots are hard to get into and the calves are enormous and look goofy on my skinny calves.

Reviewed by kater from MN on Sunday, February 16, 2014

I ordered these in an 8.5 (I vary between an 8 and 8.5 in shoes), and they fit just fine. I used a shoe horn to get them on--I can see how getting your heel in could be kind of tricky otherwise--and had no issue with the zipper. They were actually quite comfortable. The issue for me was a problem that I often have with boots. I have fairly slim legs, but I'm a runner, so my calves tend to cause tall boots to wing out at the top. (Kind of hard to explain, but on the inside of my leg the top of the shaft is pushed right up against my leg, and on the outside it's pushed as far out as it will go with a huge gap. So looking at them head on, they looked kind of ridiculous.) This is a common problem for me though, probably more the fault of my legs than the boots themselves. I returned them because of that (and the pair I ordered must have been a prior return without a box and the leather was scratched up). But if you're in the market for brown waterproof boots I would definitely give these a try. A shoehorn will alleviate the heel problem, and they didn't dig into my heel at all once they were on.

Reviewed by Amy from Minnesota on Wednesday, February 12, 2014

Reading the other reviews and the specs on these boots, I thought they would fit my "Irish"/"muscular" legs calves. I double checked my calf circumference and it was within the specs listed for this boot. I really like Teva shoes and especially the "mush" feature, so I figured these boots had everything I wanted and needed going for them. Sadly when I got them the ankle is very small for my legs and the pre-stitched bunching "slouchy detail" at the front portion of the ankle area actually causes getting these on difficult as does the back-zip entrance.

Putting these on is difficult with my big legs - I have thicker legs (I'm 5'2" 120 lbs, but with very stereotypical Irish-Germanic legs) so these boots are currently being put on with a hanger and my legs up in the air for ease. I also cannot wear socks, but can get them over leggings. I am keeping them because I think stretching them out with constant wear will help make them a bit better, but the ankle does slouch in the back, in reaction to the "slouchy detail" in the front, and does cut into my Achilles tendon, causing pain after wearing the boot for awhile (30 mins-1 hr). Overall these will not be my go-to boots, but more boots I will wear if I don't have to be on my feet often, sadly :(

Reviewed by Colorado Girl from Fort Collins on Monday, February 10, 2014

These boots are well made and beautiful. The quality was excellent and the leather was supple. I really wanted to ignore the reviews and have these boots work for me. Unfortunately, it was ackward having the back zipper. I did struggle with getting these boots zipped up all the way, and I felt that eventually the zipper pull would break if I kept it up. I have athletic calves, and had trouble getting these up all the way. I was really looking for a pair of black boots that I could zip over some jeans or leggings, so I had to send these lovely boots back.

Reviewed by stp shopper from CA on Thursday, January 30, 2014

I have been looking for a cute casual brown boot that will fit my 15 inch calf. These are listed as 15 1/2 calf size but I could not zip them up. The foot area seemed to fit comfortably. The folds at the ankle are are a little weird--they are quite stiff. I think I would have returned them even if the calf fit because of the ankle "slouch".

Reviewed by Peace Arch girl from Washington on Friday, January 17, 2014

Great boots, perfect fit. I wear a 9.5 and these fit perfectly with a little heavier sock which is what I wanted with winter boots. Great quality, nice leather and I like the back zipper.