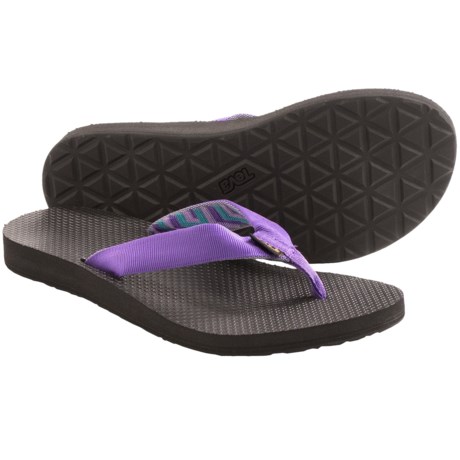 My second pair
Verified Buyer
Reviewed by saMaine from Maine on Thursday, August 18, 2016
I bought a pair of these 8'ish years ago. They finally needed replacement. I am not a huge flip flop fan. I used mine for beach trips, runs to the store, and in my garden. Many years they sat on the back steps near the door in the sun all afternoon for the summer. When they are new there are small dots on the footbed that can be a bit distracting. I dont know that walking miles in these would be a good idea but I would not do that in any flip flop. The dots flatten out over time. I assume they are molded in to provide better anti slip. The wider straps make these super secure. I wore them to cut the lawn--on a hill. The bottoms have a bit of texture but compared to a real shoe they are not grippy. Plus they are fairly stiff and I tend to buy more flexible sandals.
If you compare these to run of the mill flip flops they are a world above in terms of durability and secure fit. My foot is of average width. Over the years I never had an issue with the straps stretching out which is good since they are not adjustable.
I tossed my first pair when after years it finally started to compress. If they get muddy simply wash them off. Since I had the black color I never noticed staining. Even with sitting outside I noticed no fadding or UV degradation. The toe tab stayed secure.
The $12 price from Sierra is great, my first pair cost more than that.
Most helpful positive reviews
Most helpful negative reviews
Similar items and more information in the following areas: