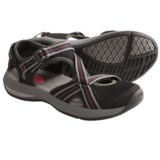 Closeouts. From everyday wear to creek-bottom wading, Teva's Ewaso shoes have a versatile, amphibious design that easily adapts to all your land pursuits with a stylish, strappy, quick-drying upper.
Average Rating based on
56
reviews
4.482142
0
5
Verified Buyer

Reviewed by Hiker from Florida on Thursday, March 16, 2017

I love these shoes for light trail-walking of 2-3 miles and walking in urban areas. Provides toe protection without looking clunky. Nice looking sandals and very comfortable. I have had lots of compliments and inquiries as to brand, etc. Bought a spare for my next travel trip!

Reviewed by tinylibrarian from Los Angeles on Friday, September 30, 2016

These comfortable sandals have a unique, sporty and urban design that makes them a great, cool walking shoe during the summer. The front also protects your toes from accidentally stepping into anything untoward on land or sea.

Verified Buyer

Reviewed by Lynn from Sunny Florida on Saturday, July 23, 2016

I originally bought these for a European trip next year. I' decided to wear them on a practice run. Decided to try them on an all-day walking jaunt. They aced the test. No blisters, no uncomfortableness, no pinching. I wish all my shoes fared so well.

Reviewed by ko from Washington DC on Saturday, May 14, 2016

I so love these shoes. They are by far the best fitting, most comfy water shoes I've ever owned. I wear them every day. They are holding up well in the monsoon season we are experiencing this spring in the U.S. mid-Atlantic area. My feet sweat horribly and I always have a hard time with shoes stinking, and these have done better not developing stink than any shoes I've ever owned, even after daily wear in damp/monsoon weather. I only have 1 complaint - the soles are not as slip proof as I would expect from a water shoe.. I was coming down a hill on some damp asphalt and slipped but fortunately caught my balance before I cracked my noggin! Even with this 1 flaw, I still rate them a 5 because they are such an awesome shoe. Since my most favorite hiking shoe ever is made by Teva, I decided to try these out and so glad I did. I will probably order another pair so when these wear out I'll be set. But I only hesitate because my Teva hikers have held up 6+ years now.

Verified Buyer

Reviewed by Wyo Lady from Wyoming on Tuesday, May 10, 2016

These are super comfortable and true to size.

Verified Buyer

Reviewed by Loves to walk from New Hampshire on Friday, May 6, 2016

Best fitting water shoes I've tried. Great for my narrow feet, having the adjustable strap system. Nice & solid for walking on rocks in the water at the beach.

Verified Buyer

Reviewed by CalGalTex from Sacramento CA on Thursday, April 21, 2016

I love the look of these, but something is a little off… while my toes hit the end zone, there's too much play in the heel and the adjustment straps don't go tight enough to solve the problem. I added some thin sole inserts and that helped. Maybe they'll get broken in…..

Verified Buyer

Reviewed by Wayfairer33 from California on Monday, April 4, 2016

These are the most comfortable shoes I have ever worn. They are sturdy and I can see why the are referred to as "Amphibious" They are made of material that is perfect for water with great drainage overall and they are sturdy enough to be an exceptional land sandal. This is one of the best purchases I have made online.

Verified Buyer

Reviewed by Claire from Washinton on Monday, March 28, 2016

I am completely in love with these. I was saddened to give up my Teva's that had survived 3 years at year round camps. But these are totally fantastic. They're comfortable and easy to slip on or off while still giving plenty of support.

Verified Buyer

Reviewed by Sally Seeder from Vermont on Friday, March 11, 2016

They aren't walking on pillows, like some of my previous Teva sandals but for what I need them for they are going to work great. I needed closed toed shoes with a solid sole for lot's of walking that would keep my feet cool on summer days and also be able to get soaked during my day and dry quickly. Working on a farm it can be really hot, really wet or both in a day and these shoes will keep me comfortable, dry quickly and protect my toes while I am working.