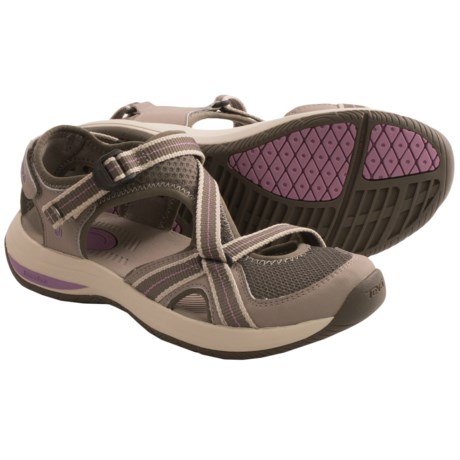 And the 25th shoe is.....
Reviewed by Shoe [...] from Greensboro, NC on Friday, July 24, 2015
I own approximately two dozen pairs of Teva sandals, from the amphibious ones I wore twenty years ago as a swim coach (and they're still kickin'), to the dressier city sandals in leather, and wedge flip flops. I am prejudiced in saying that they are wide shoes over all, without arch support, but, I also have some pretty narrow feet with some of the highest arches people have ever seen (aka lots of broken feet). I also own maybe a half dozen pairs of the Teva sneakers and running shoes, preferring the ones that they had with the elastic that went over the arch of your foot for more support.

So, Tevas never wear out, and that's why they are my shoes of summer and my frequent beach trips, aquatic classes, and such. I love them during aquatic classes as my feet never touch the nasty locker room floor from the time I get there til I get home. Plus, I'm not carrying another pair of shoes, or keeping up with something else like my cohorts in crime are. After having plantar's warts, and athlete's foot, I don't want them again. When I get home, I scrub them then.

In the colder months (like we ever have them in the hot and humid redneck Triad of NC), I wear Sanitas, Danskos, and Alegrias. I prefer the last three more expensive brands, especially Alegria for their removable insole for my semi custom one, for their support, but, because it is so hot here, my feet sweat too much, AKA stink and the leather isn't the same after one wearing. It conforms to my foot pretty weirdly as it dries, and it gets super rough and uncomfortable for the next wearing. Sure I'm lazy for not stuffing them with paper or spraying them with XYZ, but, the smell is the smell with XYZ.

So, I just drop the non-leather Tevas in the washing machine every so often, and I'm off and running again. When one that I know I'm going to wear out doesn't have enough arch support, I get a set of insoles, and put a wide two inch strip down the middle of the insole's bottom, to go on the bed of the shoe. I then take waterproof glue, shoe glue (craft department), or super glue around the outside of the insole's bottom and put it in the footbed. It usually lasts a few years provided I don't wear those in the pool, lake, sea, and such. I also hand wash those. But, after a year or two, the insole wears out, and doesn't stay in place. At that time, the footbed is pretty much molded to your foot, so yank out the insoles, and the glue will peel off. A doctor friend of mine puts these, and her Crocs in the dishwasher.

Anyway, these shoes are great. There isn't as much arch support as I expected, but that's true of most shoes in general. Because these cover the toes, I did find through an optical illusion that they felt smaller, but I held them up to four or five other pairs of Teva shoes I own, only to find that these were in fact the same size as the others, if not 1/8" longer than one pair. I think it's just because they are closed, and your feet are encased in leather almost 100% of the way.

Obviously, these aren't going to have the support of a shoe with a larger sole/heel, because there isn't anything there to work with. But, for a day at the pool, a walk on the beach, or running errands around town, these shoes more than fit the bill. You have to choose the right shoes for what you're doing; after all, you aren't going to be running a marathon in sandals, are you?
Most helpful negative reviews
Similar items and more information in the following areas: