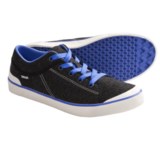 Closeouts. Bike-friendly and punky-casual cute, Teva's Freewheel shoes feature a classic sneaker style with Teva's Mush®-infused comfort insole and a PedalLINK outsole that's specifically designed to interface with the unique platform of a bike pedal.
Average Rating based on
24
reviews
4.166666
0
5
Verified Buyer

Reviewed by cannon kids from New York on Wednesday, July 1, 2015

nicely made, great materials, look exact as photo. bought as gift, hope she will enjoy.

Verified Buyer

Reviewed by osteomom from Corvallis on Saturday, October 11, 2014

Nice basic tennis shoe, comfortable and classy

Reviewed by Comfort Seeking Sally from Arizona on Saturday, March 29, 2014

Long review:

1) I bought these in my usual size and had to send back for a half-size larger because my toes were punching into the end. The larger size fit.

2) I chose them because had read reviews about how they did not slip up and down on your foot much or at all because of the way the heel is made, so was hoping would not cause blisters the way my other tennies were. SO FAR, SO GOOD.

3) I read about how the PedalLINK technology meshed with a regular bike pedal and how the spider rubber keeps the shoe sole from slipping on surfaces. On my first bike ride, I noticed that the shoes were slipping all over the bike pedals and I had to keep repositioning my feet. Thought maybe dust on the sole was having an impact from having worn them walking for the previous week and cleaned the soles. On my second bike ride, did not notice them slipping; but forgot to pay attention to see if they actually meshed with the pedal, sorry.

4) Several reviewers commented about how hard the shoes were to get on, although they fit well and were comfortable once on - I had no difficulty getting the shoes on at all, not even the pair that were too small.

5) The FIRST pair I got and had to send back had extremely short shoe laces that were difficult to tie, as mentioned by several other reviewers; however, the SECOND pair had much longer shoe laces - the white were regular length, and the orange, while shorter were still plenty long enough to be easy to tie. So it appears the length of the laces may be luck of the draw. Of course SOMEWHAT shorter laces are definitely an advantage while riding a bike, if you've ever had the experience of getting your laces looped over your pedal or caught in your chain! and

6) the insole is comfortable, but is, as noted by other reviewers, thinner than many shoes, so is not as cushioning if walking on rough surfaces (can feel every rock, etc, through the sole). Am hoping it will be comfortable enough for a 4 to 5-mile walk, since that's what I actually bought it for. If not, I'll replace the insole, since I like the overall design of the shoe, how it fits so securely on the foot without shifting.

In summary, I give it an overall grade of average because of the pluses of comfort, a secure fit, and hey, they are funky cute with the loud laces and the minuses of difference in size from other shoes, the variability in shoe lace length, and not noticing any distinct advantage yet when biking over any other tennies.

Reviewed by Walking Mo from Nor Cal on Wednesday, March 26, 2014

Runs small. Had to go back, and sadly, no larger size available. Cute shoes. Love the look, not the fit.

Reviewed by 35 yr old hip lady from knoxville on Saturday, March 22, 2014

these shoes ran about a half size small. i usually wear 6.5 and these are a bit too short. very cute styling, but you can not tie the laces (they are too short)- i guess that is the style.

Reviewed by Comfort Seeking Sally from Arizona on Saturday, March 15, 2014

These look very well made, funky, and felt comfortable with the exception that . . . they were small! Lately, every time I order a 5.5 (the size I've worn forever), it's been too loose. But with these 5.5's (I ordered two pair, different colors), one pair was too short, although wide enough - my toe hit the end of the shoe when walking; the other pair was barely long enough, but too narrow.

I DID like them enough that I've exchanged them for a 1/2 size larger and am waiting for those to arrive currently.

Reviewed by JustJanet from WY on Wednesday, March 12, 2014

These are the first Teva sneakers that I have purchased. I have worn their products for years though. The PedalLINK outsole is what first caught my attention as well as the colors. I ordered the black and have worn them multiple times since they arrived. I have walked to work and back as well as ridden my bike/trike multiple times in them. They are great! They are light and offer all day long comfort. I especially like them for biking. They do not slip on my pedals. The low profile looks great with everything, jeans, leggins or skirts. Would love to have the white ones as well!

Reviewed by SS from Chicago on Tuesday, March 11, 2014

These are a great replacement for the Simple sneakers that I used to buy every year and still love to death. The black with blue is a super versatile look, and are absolutely comfy, very cute with straight leg or skinny jeans. They do run small (I'm typically a 10 and needed the 11), so size up about a half size!

Reviewed by likesabargain from outside boston on Wednesday, February 12, 2014

Loved the way they looked, but too short and a bit too wide. I do have narrowish feet, but usually it doesn't matter in a sneaker that ties. I had to send them back.

Reviewed by Sal from WI on Tuesday, January 7, 2014

I really love how these look. They're even comfortable enough to wear for a casually heavy day of walking! The only reason they didn't get four stars is because they're tight around the ankles, so hard to put on. Once they're on, they feel fine, so just don't wear them if you need to take your shoes on and off all day. Overall, I'm quite happy with them and bought a second pair for when they wear out.