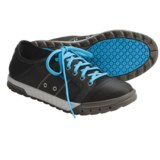 Closeouts. Teva's Fuse-Ion shoes battle water on a molecular level with their Ion-mask technology to keep you light on your feet and moving quickly in wet environments, plus their slip-resistant Spider Rubber® + JStep outsole sticks to just about anything.
Average Rating based on
16
reviews
4.437500
0
5
Reviewed by Mirek traveler from Oregon on Monday, July 29, 2013

I just bought them. they are light, very comfortable. I hope they will last long. I'm going to get another pair.

Reviewed by mikedg from San Francisco on Tuesday, June 11, 2013

Good looking shoe with a sole that feels like it could stick to anything. Looks like it was made with quality materials and should be durable and long lasting. I haven't yet tried them in the water, but am looking forward to it. I would go with your normal size. I bought a size up but had to exchange them for my normal size, especially if you plan on wearing them sockless.

Reviewed by chris anywhere athlete from so. cal. on Tuesday, May 28, 2013

Love these shoes, easy on, great look, and they perform well for light athletic endeavors

Reviewed by Deano from Tellluride, CO on Tuesday, May 28, 2013

Did a short rafting trip and the non slip soles really worked great. I love the way you can just step on the heel cup and use them as a slip-on shoe.

Reviewed by Flying Frog from Alaska on Tuesday, May 28, 2013

I bought these thinking I would have nice, cool, skate style shoes for outdoor activities in general (there's sloppy muskeg all over in Alaska) - but the fit is large for the size, and then it hit me: perfect fit over stocking foot waders, brilliant immersion design and great traction. These are now my go-to fly fishing footgear!

Reviewed by kisatchie from louisiana on Sunday, April 21, 2013

Bought these for summer camping on a creek. Comfortable fit and quality construction. Drains/dries quickly. Good traction on slippery rocks.

Reviewed by Thisby from NC on Monday, April 15, 2013

My husband bought these shoes because I loved mine so much. We now have 2 pairs each. They are truly water repellent and slip proof. Both of us work in healthcare and have to have shoes that meet those criteria. Also, I am vegan with awkward feet, so I needed something that could be laced up and cruelty free. Again, the Fuse-Ion is our FAVORITE shoe.

Con: Of our 4 pairs of Fuse-Ions between us, the first pair we received from Sierra Trading Post was defective and had to be sent back (it had an area that jabbed into my hubby's foot). STP exchanged the shoes for us with no hassle, but it does bother me that we had to pay a fee to return a defective product that they sold us. We were not charged the full return fee, and the shoes were still cheaper than anywhere else, but we shouldn't have been charged to return a defective item. It will make us think twice about purchasing from STP in the future.

Reviewed by BooforDIe from Idaho on Friday, April 12, 2013

The Fuse-ion are great. They drain water like no body's business, look cool, and are low profile enough you can even where them in your kayak. Awesome.


Reviewed by Sunburn Coyote from Florida Keys on Thursday, April 4, 2013

Pleasant surprise: The Uppers are a stretchy, breathable, fine mesh. Look like skate shoes/sneakers, but allow for moisture to escape shoe.
Sole is solid, feels good on the foot. I ordered a 1/2 size up as a previous reviewer had recommended and the fit is perfect.

Reviewed by brgriffis from Jacksonville, FL on Wednesday, February 20, 2013

The Teva Fuse-Ion shoes are comfortable, adn look good. They are able to be worn on the water, or off...like to a store/restaurant afterwards. They have kinda a skate shoe look to them, that is like what I usually wear, so they look like another pair of my everyday shoes. I use these specifically for kayak fishing. I wanted to upgrade from just wearing flip-flops all the time since we have many oyster beds around here. These shoes give you the ability to wear them on the kayak/boat, or wade around in the water with no worries. They do allow for some small rocks, and sand to get niside the shoe, but you can shake some of them out, or just take the shoe off real quick and wash it out. These shoes are hard to pass up when the price is right.