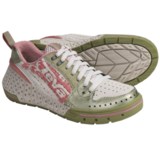 Closeouts. Designed with the look of a street sneaker but engineered to perform in the water, Teva's Gnarkosi water shoes are the stylish choice for versatile outdoor performance.
Average Rating based on
33
reviews
4.090909
0
5
Verified Buyer

Reviewed by Moduckgal from Missouri on Friday, December 12, 2014

I bought these as a gift for a fellow Kayaker with diabetes. So far she absolutely loves them. People with diabetes have to be careful with their feet and she loves to Kayak. She was worried about her feet staying wet after walking in water and something happening when walking. She has not gotten to use them Kayaking YET but she said the fit and feel are great.


Verified Buyer

Reviewed by Bay rafter and hiker from SF Bay Area on Monday, October 20, 2014

These shoes did it all ... went from rafting through muddy waters to hiking in mud and clay, and back to the river, without strain on my feet. Gave good support for off-trail hiking through slickrock and rubble. They are uniquely ugly (shoes only a mother could love, to paraphrase an old saying) but wear perfectly.

Verified Buyer

Reviewed by catara52 from Pennsylvania on Saturday, August 23, 2014

Truly, I did not buy these to wear in water, except perhaps on a rainy day. They are attractive and very roomy without being big. I don't like the shoe laces, though. THey are an off white and look dirty. That's what stops me from giving it 5 stars.

Verified Buyer

Reviewed by geneveve2 from Arizona on Saturday, August 2, 2014

I have been wearing these shoes for 2 weeks. What I like about them is that they are lightweight. They have a good heel support. The fit is true to size. I wear an 8.5 to 9 in women's and ordered a 9. The shoestrings are a good length and stayed tied. (some don't)
I have not really used these as water shoes. I am wearing them as an everyday, lightweight tennis shoe. I live in hot, dry, Arizona. I will be taking a fishing trip to Alaska in August so wanted these to wear on the fishing boat. I believe they will be great for that.
Some final comments on the shoes:
I find them very comfortable and well padded.
I wear with socks but probably could be worn without.
They have small vent holes that go all the way through so they breathe and I suppose this is so water flows through.
Shipping was fast!

Verified Buyer

Reviewed by Cynthia Ann Garcia from Texas on Tuesday, June 10, 2014

These are okay except that they are a bit too large and I have to wear socks with them. Other than that, they are great for their purpose.

Verified Buyer

Reviewed by Gamma J from Texas on Wednesday, May 28, 2014

I tried many shoes to find this one. Want one for hiking and horseback riding that will work in streams and pools. Will write more after the vacation. The cut and arch support seem like they are what I need. Only the outdoor test for 3 weeks will give a complete story.

Verified Buyer

Reviewed by Teri D from Pennsylvania on Monday, May 12, 2014

I purchased a pair of these shoes several years ago from another retailer on clearance. I did not know they were water shoes when I purchased them. I wore them to work every day (I stand on my feet 12 hours a day) and got NUMEROUS complements on my shoes. I have never been able to find another pair until now. I bought 2 pairs. These are absolutely the most comfortable shoes I have ever worn. I look forward to actually wearing them for their intended purpose when we visit the Grand Canyon and white water raft the Colorado River this summer. In the meantime, I have an extra pair for work!

True to size/great support/good tread

Verified Buyer

Reviewed by Grayhorse from Washington on Thursday, May 1, 2014

I bought these for my roommate for hiking along the river. She hasn't had a chance to use them yet. They seem durable and have a cool look to them.

Reviewed by Sparrowood from Florida on Tuesday, March 25, 2014

Not only are these shoes as comfy as walking shoes, they are quick draining and drying. I've used them several times in the week since I got them, and I couldn't be happier. Even in Florida sand, they keep clean with very little debris making it inside. Good foot support on land and in water.

Reviewed by The Biker from Midwest on Tuesday, March 25, 2014

I just received the shoes and have tried them on but haven't yet had them in the water. I find them to fit comfortably. They are easy to walk in - not stiff soled like I feared they would be. I purchased them for kayaking and am anxious to try them out for that!