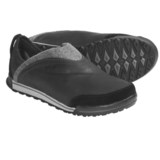 Closeouts. Easy slip-ons for cozy, wear-everywhere comfort, Teva's Haley shoes feature a smooth leather upper with comfy boiled wool collar and cushy Mush®-infused footbed.
Average Rating based on
49
reviews
3.346938
0
5
Verified Buyer

Reviewed by Kathy from Ohio on Thursday, October 29, 2015

Shoes are extremely hard to get on. Fit fine and are comfortable once you get them on.

Verified Buyer

Reviewed by Qiqi from New York City on Wednesday, October 14, 2015

It's rather difficult for the first few days to put it on. Then after break in, the shoe is rather nice and comfortable to wear. It fits onto the feet just so perfectly.

Verified Buyer

Reviewed by sbern from Nebraska on Tuesday, October 13, 2015

I like the Teva Haley shoes. They look great and feel good too. A little difficult to get on without a shoe horn. But they are very comfortable. True to size for other Teva's that I own. Very good quality.

Verified Buyer

Reviewed by Gumper from Cottonwood Heights, UT on Thursday, October 1, 2015

I ordered these because of the reviews stating that they run narrow! I wear N so ordered them in my size 7. They definitely do run N, so if narrow is you, order them. I might suggest going up a half size. I will be wearing mine to and from the resort where I'm a ski instructor so the size 7 will be OK. If I were to wear them as sweet shoes I would want a 7 1/2. They do take a little effort to get on, personally don't see that as a negative. The sole seems like it will be good in the snowy conditions. I'll be testing them out soon.

Verified Buyer

Reviewed by McTyra from Alabama on Monday, September 14, 2015

This shoe is made well but if you have an arch they are difficult to get on, once on they fit ok. They don't have the support that I expect from Teva shoes.

Verified Buyer

Reviewed by Judy F from upstate NY on Wednesday, August 19, 2015

Attractive, liked knit feature over toop of foot, but ran small compared to Teva sandals. Unfortunately larger sizes were out of stock.

Verified Buyer

Reviewed by TizLV from Las Vegas on Thursday, August 6, 2015

The two feet that I received are definitely not cut the same, the left foot can get into the shoe easily and the foot is swimming in it, but the right foot is so tight, had to use the shoe horn to put on, and it fits tightly; not sure if only this pair has this problem or it is common, really wished this shoes would work since I am desperately looking for a pair of walking shoes.

Verified Buyer

Reviewed by Mike from OR on Wednesday, June 3, 2015

Put these on and they fit great right out of the box...no break in needed. Good fit and very comfortable.

Verified Buyer

Reviewed by Grmb from Michigan on Monday, April 27, 2015

Not sure how to rate. They are so narrow, not sure who could put their foot in them, so not sure about comfort, or how longlastiing they are. Should have read the reviews. They got returned.

Verified Buyer

Reviewed by Mom of Teen from Georgia on Wednesday, January 7, 2015

Couldn't get my foot into the shoe (tried only one foot) and I have narrow feet!

Verified Buyer

Reviewed by merelyfaith from Shenandoah Valley on Thursday, December 18, 2014

Other reviewers are right regarding the need for a shoe horn, but the comfort once they're on is worth the bother. These have support and feel really good even after a on-your-feet day. Plan to order another pair different color.

Reviewed by cckiger from mariposa, ca on Thursday, December 11, 2014

I almost didn't buy these due to so many people having trouble getting them on. With my narrow foot it is no problem I added an arch support and there was room for that, though the support they have isn't bad at all. The insoles are removable if a person wanted to put their own in. I got them in black because I didn't care for the white along the sole of the brown. I gave them only 4 stars because I don't think they are real attractive in black now that I see them. I still like them though and glad I risked trying them. I'm a 7 12 or 8 and ordered both. The 8 was definitely the right choice.

Verified Buyer

Reviewed by Sunshine from Wisconsin on Thursday, November 13, 2014

First hard to get on but they stretch out. True to size and can even put my insoles in. Like walking on air

Verified Buyer

Reviewed by KimJ57 from Maryland on Saturday, November 8, 2014

These shoes looked and felt great in the hand but the opening is SO SMALL that you can't get your foot in the shoe. I struggled for over 10 minutes on one shoe. I bought these to be an easy slip-on. They are not. There is no give even with the small elastic piece. I have flat feet, no arch to speak of and I couldn't get into them. It's a shame, they were lightweight and appeared to be a good width.



Verified Buyer

Reviewed by CJD from Arizona on Wednesday, November 5, 2014

These are nice shoes. For me the slip-on part is challenging. Might be the boiled wool collar. They seem to be true to size.

Verified Buyer

Reviewed by rita from colorado on Wednesday, September 17, 2014

should have known better from reading the reviews. cute shoes, look comfortable but i will not fight with a shoe! Each day already has too many battles...

Reviewed by Secrome from Victoria, Ustralia on Monday, February 24, 2014

Great shoes for walking. Difficult to get on but worth it once they are on. I have just bought a second pair.

Reviewed by Quality Nerd from Washington on Saturday, February 22, 2014

These are the only shoes I wore for a two week trip to Italy in December where I walked for hours every day. Totally comfortable! I have arthritis in one of my big toe joints and these shoes fit without causing any pain. They are stylish enough that I felt I could wear them anywhere and sturdy enough to wear on consolidated snow.

Reviewed by agsusang from Colorado on Wednesday, February 5, 2014

I love the look of this shoe but I have high arches and getting my foot into the shoe was a workout. Literally cramped up getting my foot to slip in. But once I got my foot in, they were super comfy all day. I hope that wearing them all day has strecthed them out so that the next time I wear them they are easier.

Reviewed by El from Massachusetts on Wednesday, January 29, 2014

The shoe was just what I was looking for but for some reason, I couldn't get it on my foot. I am always an 8 1/2 who was looking for something I could slip on to get the mail or run a quick errand. Ooops! It doesn't work if you can't get them on your feet. Looked good in the box and on the floor but that doesn't get the mail. Returned.

Reviewed by disappointed in ny from New York on Monday, January 13, 2014

You will need a very unique foot to wear this shoe. Very difficult to get your foot into the shoe. If you have a high instep don't even bother to try! I am a 7 1/2 average to narrow foot and I was almost unable to get my foot into the size 8. Once in, the shoe is somewhat comfortable. Not sure if that would last long being that it is so flat. Materials and build seemed very nice though...too bad it just didn't fit.

Reviewed by Kairos from PA on Monday, December 16, 2013

As always, Teva has made a shoe that looks good and feels good. As always, Sierra makes them afforable !!
They are extremely hard to get on because of the piece of (tight) elastic that is across the top. A shoe horn is needed !
They are really narrow after they are on so anyone with a medium or wider foot should look for something else.
My foot is narrow so it's finally my turn to enjoy this great looking, durable and comfortable Teva shoe.

Reviewed by Kairos from PA on Sunday, December 15, 2013

This shoe is a typical Teva shoe. Stylish, rich color and well made. However, as the other reviews I read stated, it IS very tight to get on due to the piece of web across the top of the foot. I use a shoe horn and it slips right in and is SO comfortable. I have narrow feet which is a help, too. This shoe isn't for people with wider feet. So, for the first time in a L-O-N-G time I'm not swimming in my shoe's, they fit me ! ! !

Reviewed by Mig from Wisconsin on Saturday, November 16, 2013

I bought these shoes to have easy slip ons to runout the door. Unfortunately they were not easy to slip on at first because of the felted part that comes high on the top of the foot. However, with repeated wear, they are getting easier as they loosen up. They were immediately comfortable and cozy.

Reviewed by outdoor girl from Colorado on Thursday, November 14, 2013

These shoes are hard to get on. You need a shoe horn. But once in, they are very comfortable. So "easy" slip-on is a bit deceptive. I normally wear a
6.5 but ordered a 7 to accommodate socks. Right now I can't get a sock in them, so they run small. I think they will eventually stretch out. But a bit disappointing for Teva.

Reviewed by Weaver from Northern Minnesota on Wednesday, November 13, 2013

This very nicely made shoe with good materials has a very small opening. My food would not slip in, nor would my friend's, whose foot is a size smaller. Order this if you have a narrow foot and low instep.


Reviewed by wvterry from West Virginia on Tuesday, October 29, 2013

These Tevas are a little hard to slip on at first and I thought they were going to be so small. But once I got them on I was good to go. They fit very well. I wear them to work and to play!

Reviewed by Kathryn C. from North Carolina on Saturday, October 26, 2013

These seemed of good quality and they felt comfortable as I tried them out around the house. I didn't have much trouble getting my foot in the shoe, as some others have noted. However, they rubbed on my heel so I had to return them. Overall they seemed like they would have been nice, comfy shoes for work.

Reviewed by Peace from Royal Oak, Michigan on Wednesday, October 23, 2013

I was really hoping that the previous reviews were from people who weren't patient enough, but it took me quite a while to get this shoe on my foot, and once I did, the wool portion at the top of the foot was very uncomfortable. I think it's a nice looking shoe, but I had to send them back.

Reviewed by sarah from seattle on Sunday, October 20, 2013

these fit me well, I am just a bit tired of black all the time. Nice shoe that fit me fine.