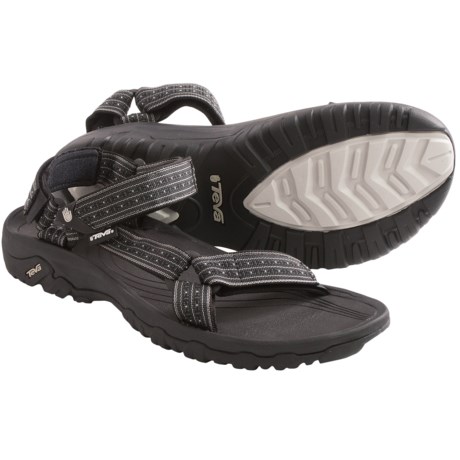 Slippery sole and footbed, uncomfortable plastic connectors, unequal backstrap length, no arch support & not minimalist
Verified Buyer
Reviewed by zstelling from North Carolina on Wednesday, September 28, 2016
I bought a pair of these in US12 - my normal shoe size - because I need a hiking/camp sandal for a trip to lowland Guatemala. In the short time I've owned these, I have to say that I hate these sandals more than any footwear I've ever owned.

PROS:
- These were more comfortable than my heavy boots while walking in dry dirt.
- Felt much lighter on my feet than boots.

CONS:
- These slipped all over the limestone at Tikal - both dry and mossy. The sole is pretty inflexible and doesn't grip anything well.
- The footbed is incredibly slippery while wet or muddy. These are impossible to walk in while wet despite how tight you make the straps. They slipped so bad that my heel launched forward and out - out the left side of the sandal. I nearly twisted my ankle a few times with the same issue. This slipping problem was so horrible that I had to retire the sandal and walk barefoot.
- I cannot emphasize the above point enough. I couldn't even walk around the hostel after a shower in these [...] things.
- The footbed separated in some places from the lower bed just after a walk around Flores. Bad glue. Bad design. No bueno.
- The backstraps feel unequal in length. I had to tighten the right-foot backstrap to the point where the end of the strap overshot the end of the Velcro by 1.5"
- There is a hard plastic connector that rubs against the inside of your foot near the heel. I got used to it after a few km, but it is never comfortable and sometimes painful.
- The toebed felt quite wide, especially on the right, looser, sandal. My feet are the same length and width so I know it's not a me problem.
- There is no arch support on these and they are also so thick that they'll never have a minimalist kind of feel, so no bueno. These allow my somewhat collapsed arches to collapse entirely into the shoe, meaning I'm walking improperly. I have re-learned to walk with an arch in my foot (i.e. disallow my foot from rolling in and landing flat) while barefoot, in flip flops, and in some decent shoes. These let my foot collapse. Not necessarily uncomfortable, but really really bad in the long run.

TL;DR: These sandals suck. They are slippery and uncomfortable. I have read some success stories about the Terra Fi sandals. I may try those.
Similar items and more information in the following areas: