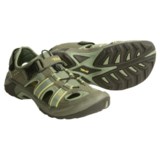 Closeouts. Teva's Omnium sport sandal is a well-protected, quick-drying shoe for amphibious hiking, water adventure or travel.
Average Rating based on
348
reviews
4.548850
0
5
Verified Buyer

Reviewed by CamperCarol from Beaverton OR on Tuesday, July 14, 2015

I love this shoe and look forward to wearing it for a long time. It's the best active wear item I have bought in years!



Verified Buyer

Reviewed by CamperCarol from Beaverton OR on Sunday, July 12, 2015

I love the look and durability of the Teva shoe. It's nice to have the air flow although my feet still sweat while wearing them. There is rubbing on the back of my heel which I hope to resolve with some padding, or maybe just wearing in the shoes will stretch them enough.

Verified Buyer

Reviewed by Sheila from Cincinnati, Ohio on Monday, June 1, 2015

This is my third pair of Omniums. With all the hiking, gardening and Dog walking that I do, they last about 3 years. I was disappointed while shopping for them this time that the color that I had originally is being discontinued plus I had to do some serious surfing to find my size. I called Teva's corp ofc and their customer service team was surprisingly uninformed about the shortage of supply and the reason for it in the Womens sandal. Men's sizes and colors are nearly unlimited. Anyway, the sandal is great. The adjustment options give the shoe a personal fit. They are made of synthetic and mesh, which is another plus since I am a Vegan. They are true to size and can also be worn with socks. The sole offers great traction for hiking on slippery rocks and muddy trails. Keep in mind, the shoe has many openings so debris can sometimes be annoying. I just stop and my Dog Dobby lets me use him as a support to take the shoe off and clear it out. The quick release buckle makes it very convenient to do that.

Reviewed by Eileen in Paradise from Hawaii on Saturday, May 2, 2015

Trail or beach, yard or just every day sandal. They are comfortable, practical, light and airy. My last pair held up 6 years, and now it's time for a replacement pair. I also used them to ride my recumbent bike, and think that's why they finally bit the dust. They are pretty true to size. These are about the same price is paid 6 years ago on sale.

Verified Buyer

Reviewed by Walking Woman from Coastal NC on Saturday, April 25, 2015

There are several adjustment straps on these sandals, but none of them make the foot opening any wider. The stretch is minimal, so getting my C-width foot in the first time took lots of force and wiggling. Once I got them on, they were comfortable and supportive from the start and I wore them a whole day with no problems. Just wish that they were easier to get on. Love the muted purple and gray color!

Verified Buyer

Reviewed by kk from Colorado on Sunday, April 12, 2015

Seem true to size and not terribly ugly for sport sandals (which is really saying something).

Verified Buyer

Reviewed by Happy feet from Pennsylvania on Wednesday, April 8, 2015

Love them. I will get a lot use out of them over the summer. I had a pair of Reba sandals before these that I have worn for 5 years and they are in great shape. I know these will just as good.

Reviewed by Diane the Librarian from Georgia on Tuesday, March 31, 2015

I have worn Teva sandals for years. Over the Winter I used kitty litter in my garage so that I would not fall. Unfortunately it ate into the leather of the shoes. I now use them for bedroom slippers because I like the high arches. It is very difficult for me to find narrow shoes with high arches. These sandals fit the bill. Now that I am older I need a larger size.

Will you be getting them in a size 7 1/2 or 8?

Verified Buyer

Reviewed by melitap from Boston on Monday, March 16, 2015

I haven't been able to wear these outside yet since I live in, ahem, Boston but they seem incredibly sturdy and seem to have nice arch support, which I need. There is a heel strap and a front buckle as well as the 'shoelaces,' all which can fine tune the fit. So I think once the snow melts I will enjoy them!

Verified Buyer

Reviewed by DEVA Carole from California on Thursday, January 15, 2015

Great fit, felt very comfortable to walk in as soon as I put them on. I like the color - purple trim.