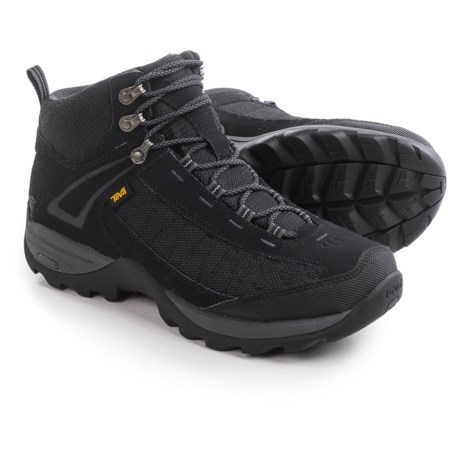 It runs very true to size but is on the narrow side. I measure as an E-width foot on a Brannock device and these shoes would fit a D-width foot comfortably. I have to loosen up the laces to be comfortable.

They run small, order 1/2 size larger than normal.

These shoes run 1/2 size smaller. I wear 11.5 and 12 fits.

In my experience with two Teva mids: the Kitmah and now the Raith they fit true to size. My feet have gone from a 10.5 to 11s in all my foot wear. I adjusted accordingly with the Raith 11s and they fit well.

As for length, my boots fit great. They are definitely a European width, though, which is narrower than an American boot. I like that for hiking and climbing, though. This allows for less rolling of the boot when working up a steep mountainside. I like them enough to have bought two pairs. If you have wide feet or need a large toe box, though, these might not be for you. The weight is great, by the way.

Lengthwise, yes; however I found them to be a bit narrow in the medium/D width, As long as I would wear thinner socks, they would be okay.

This is the first time I have had this problem with the Teva Brand.

According to our fit team this item is running true to size.

Yes. I wear 11.5-12 and the 12 fits perfect with medium weight socks

No, it does NOT run true to size. They are a 1/2 smaller than normal. I normally wear a 9. I read the other reviews and ordered a 9.5 and they fit perfect. Order a 1/2 size bigger from what you normally wear and you will be fine.

I read reviews before i bought. i am 60 yrs old and have worn 8 1/2 all my life. i bought these in size 9 and they fit perfect. i also love these boots. i only wore these a couple of times, next winter will be the true test.

Yes, they are true to size! Enjoy! !