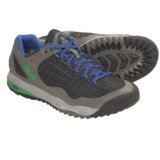 Closeouts. A durable, go-anywhere trail shoe that keeps the elements at bay, Teva Reforge eVent® shoes have a waterproof breathable membrane, a molded frame around the upper and an aggressive lugged Spider Rubber® outsole.
Average Rating based on
38
reviews
4.342105
0
5
Verified Buyer

Reviewed by leah from bend on Friday, November 14, 2014

was skeptical on these shoes but the reviews were great. turns out they are awesome. not much of an arch in them but the teva sandal padding they use is really nice. stiff soles are made for hiking not running. i am using these shoes as an approach shoe for climbing. though i may not climb vertical in them, the rubber is super sticky for the approaches and boulder hopping at the crag. a little stiff out of the box, they will break in a tad bit

Verified Buyer

Reviewed by Outdoor Guy from Maine on Sunday, June 15, 2014

After a brief break-in period this has become a go to shoe. Very comfortable and the sticky spider sole is wonderful. Have not experimented with the waterproof claim yet. We'll see, but so far, 5 stars.


Verified Buyer

Reviewed by Mikey from North Florida on Monday, May 5, 2014

I needed a waterproof shoe for my outdoor work. These shoes were a bit tight in the forefoot initially, but broke in nicely ( I am a 9.5 D size) . With some heavy rains in my area ( N FL ) over the past weekend, the waterproof feature also received a good workout. It performed well. And as they are trail shoes, I can report that they are very comfortable and supportive for extended walking. Good product.

Verified Buyer

Reviewed by Richie B from PA on Tuesday, April 22, 2014

Teva makes good shoes, and this pair doesn't disappoint. As is the case with all trail shoes these are stiffer shoes, with a thicker sole and more heel, arch and sole support. They're not suitable for running, but fit the bill for everything else.

Verified Buyer

Reviewed by JB from Virginia on Saturday, April 19, 2014

Ordered them based on reading reviews and figured they would be great for a future trip I have. Went a half size up since I normally wear an 81/2 and all the info says to go a half size up. First pair I got was waaay too big for me. Returned them very easily and fast and got my normal shoe size and it was a MUCH better fit! Pretty stiff shoe but I know they will be great once I break them in. They fit nice and snug and have a great deal of comfortable padding. The toe and sole of these shoes are so tough that I hardly ever feel anything under my feet I walk on and definitely won't ever stub a toe if I ever kick or trip on something. Haven't tested the waterproof ability of the shoe so hopefully they will hold up! Definitely recommend the shoe and the brand, great treading.

Verified Buyer

Reviewed by KYJoe from Lexington on Wednesday, April 9, 2014

If you are looking for a waterproof trail shoe, then this is one the most comfortable that I've found a reasonable(under 200)price range. I found the sizing to be correct for for my feet, although I already own other Teva's so I knew how the fit was in advance. These shoes have proven to hold up to the waterproofing in the last couple of storms and trekking through puddles and small streams. So far, I'm impressed with these shoes.

Reviewed by Gary from San Francisco on Monday, April 7, 2014

I wore these shoes for a month. I walked city streets. I walked my dogs on the beach. Nothing out of the ordinary. I woke up one morning last week with pain in my left foot. I waited a few days for the pain to go away, but it didn't. Instead, it established itself in the top of my foot, about an inch or so from my toes. I went to see my doctor, who diagnosed me with Morton's Neuroma. Tight shoes can cause it. I stopped wearing these shoes, and started wearing roomier shoes. A week after the pain started, and five days after I ditched the shoes, the pain is almost gone. I won't be wearing these shoes again. I have never experienced this problem before, and hope never to again. The thing is, I liked these shoes. I ordered a half size up. They fit fine, but seemed a bit tight in the sides of the feet. I thought the shoes would give over time, but they didn't. I liked that the laces usually stayed laced. If you've got narrow feet, you might give them a try. If you don't have narrow feet, I would advise you to walk on by.

Reviewed by mikki from maui on Monday, March 31, 2014

I have purchased these for a trip to an island where I don't want to bring any dirt or seeds, so I haven't worn them outside yet. They fit well tho & are comfortable & supportive, as well as pleasant looking ;p I like the blue laces, since I'm a lady in men's shoes ;p the laces snug up around the heel,& i like that.

Reviewed by Anonymous from TX on Friday, March 14, 2014

I bought two pair of Teva's (one for me and one for my son). Luckily he wore a 1/2 size smaller than me, so he was able to keep the ones I ordered for myself. He loves them and says they are very comfortable. Since we live in Texas, we have not been able to check the waterproof features but that day will come.

Reviewed by Mark B. from Anderson, SC on Tuesday, January 14, 2014

I've had these shoes for about two weeks now and I love them. I bought them mainly so I would have a sneaker-type, waterproof pair of shoes for when I go to Germany in a month. I was there last summer and the only waterproof shoes I had were a bulky hiking boot. These shoes are well-built and comfortable. My only minor gripe with these shoes is that they are a little wide for my narrow foot. I think the more that I wear them, the more that gripe will deteriorate. I just need to get used to the way they feel and break them in a little more. A few more wears should do the trick.