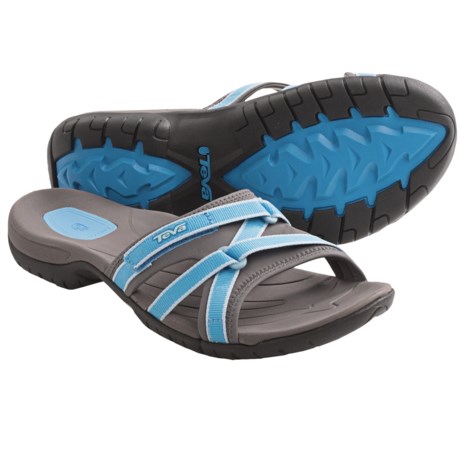 The sandals stay on my feet well. The colored strap on top of the rubbery band that goes over the forefoot can be tightened.

I have done a lot of walking in these sandals and they are not at all like flip flops. The wide, soft material ( not sure what it is, but it doesn't rub and stays cool and dry even in hot and humid conditions) under the strap covers quite a bit of the foot and the one strap cleverly tightens the whole area.

I feel they stay where they are suppose to be. I would order 1/2 size down. My first pair were size 10 and I like them but the second pair 9 1/2 fits perfect. I actually wore these when I did some extensive digging and gardening. No problem, love them.

Under the "upper" ribbon strap (closest to the ankle) is velcro for adjustment. Mine do NOT slip n' slide even without tightening. While I wear a size10 in enclosed shoes, I wear a 9.5 in sandals which allows for a more snug but comfortable fit. Another perk: These TEVAs have better support than similar style Merrells which usually cost more.

I have found them to be secure. They also have a velcro strap to tighten slightly if need be.

They don't slide around as much as flip-flops and I feel I can drive in them, whereas I don't wear flip-flops to drive. These have quite good arch support in the footbed and I can stand for quite a while in them. If I'm walking a ways outside though, I wear my more rugged Teva sandals withe the ankle strap. These are more decorative, fine at the office and around the house, but not for long walks, at least for me. I'm glad I bought them.

They stay on my foot, but they do 'flip' like flip flops when you walk.

They do stay securely on my feet, but I have an average width (B) . My daughter has narrow feet and she tried them on and said they did slip a bit. There is a Velcro strap across the front of the foot that can be made tighter, but I have never had to adjust mine. Hope this helps.

I am not a flip-flop person, but I more or less know what you mean. These DO slap at the heel whenyou walk, but they donot slide around. There is a slim velcro strap on the top part to let one tighten as needed.

These stay very well on my feet! There is a velcro closure over the "wet-suit" material, so you can slide your foot in and tighten until it's comfortable.