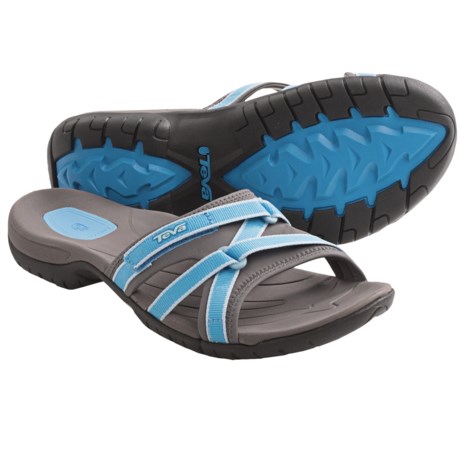 I wear a 10 and my first pair was a 10, they seemed 1/2 size to big. My other ones are a 91/2 and they fit perfect. I do not wear any socks with them, so maybe in your case you should order your real size. Hope this helps


thats what i use mine for too! i think 1/2 size bigger will do you. i have room for socks and mine are 1/2 size bigger. i don't think you'd be happy with a whole size bigger and the arch may not fit where you'd want to ti. plus, these have stretch!


I, too, have a narrow to medium width (more on the narrow side, but often medium is all there is and is always fine). I am also a nine. I use these on tile floors, at night often with medium weight socks. While I can't be sure, since the width is adjustable-- see that strap nearest the toe. I t has velcro-like closure -- I think all but the heaviest socks would be fine. Hope this helps.

Correction. The velcro closure is on the strap farthest from the toe. Sorry.

My size fits me perfect fit but if you are wearing them with a thick sock I recommend a 1/2 size up.

I usually wear a size 8 between medium and wide. However, Teva's run a little large. I ordered a 7.5 and if its fine without socks, but probably would be a little tight with socks. So, since your feet are narrower than mine, perhaps your regular size 9 would work with socks. I don't know if you would want them larger, but not more than 1/2 size up. I am wearing them now around the house now.....

Sorry, no idea. Too many variables. I have never tried mine with socks but I suspect it would be tight at the front.

I usually wear a size 5 1/2, the slides fit perfectly. I enjoy the style, they are comfortable, and probably could wear them with socks in the winter. Inside shoes is a good idea, carpet wouldn't get soiled as easily. I have walked in them all day and haven't had a problem. (I have flat feet).

I ordered my true size. Have been very pleased with them and if you have a N to M width, you should be fine without ordering up.

According to our fit models this item is running true to size.