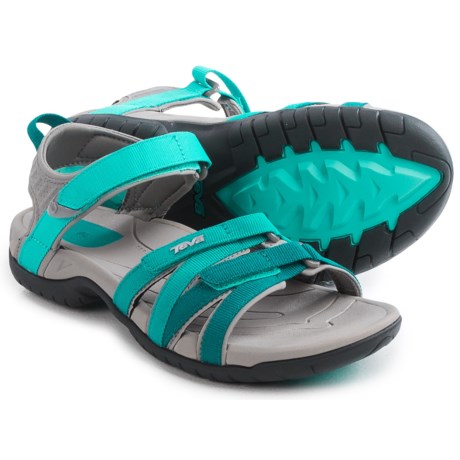 I would order a 9 because I ordered a 7 and I normally wear a 7.5 and they seem a little snug.

I wear 8.5, so ordered a 9, and they fit fine (all three pairs!). But as you see, they are adjustable in width.

I also wear 8.5 and was fortunate to get these in that size. So, I just tried them on, and if I were to buy another pair not available in 8.5 I think I would go with the 8 as opposed to the 9. The straps are fully adjustable, so it's the footbed I was looking at. There is a little toe to heal room in the foot bed in the 8.5 so an 8 should work. Your toes might go right to the top of the shoe, but should be seated fully on the sole, I would think. Hope this helps. By the way, they are SUPER comfortable sandals.

I think you would want to go up to a 9. I wear the 7 and my foot goes nearly to the front edge, which is fine; but if I wore a 7.5, I would for sure want to get an 8.

I also wear a 8.5, but I have 4 pair of tea's (different colors) and alway get a size 8 and they fit perfect!!



I usually order my teva's up to the next size. But I prefer to have some room in front if my toes vs no room.

These sandals do have half sizes. They run true to size.

Because I have one foot almost a half size larger than the other, I ordered size nine and my size (almost) 8.5 foot works just fine in it. I do have to flex when I tighten the ankle strap otherwise it cuts off circulation. The ability to strap the toes makes it snug.

What I usually do is order two sizes and send back whatever doesn't work.

Hope that helps!

Thanks to all the STP shoppers who provided answers and info. regarding the sizing question I had on these Teva Tirra sandals. In the past, I've posted answers regarding items I've purchased and always hoped it assisted the person inquiring. Now, I'm on the receiving end of this wonderful community of STP consumers who provided incredibly helpful feedback. Thanks to everyone.

I wear 8.5M in a closed shoe and 8M in a sandal. The 8 in this sandal fit true to size for an 8. These do come in half sizes, but apparently STP doesn't have any more (except I see 5.5 today). I have several pairs of these and had tried on both 8 and 8.5 in a store, just to see the difference. Both sizes were OK for me in arch placement and length, without my toes too close or too far from the edge. But but the 8.5 had straps so much longer than the 8 that I couldn't close it snug enough. The straps on the 8.5 either ran out of Velcro when I pulled them over or barely grabbed with most of the strap free & sticking out. However, my feet are on the slim side of medium. So just keep in mind that Teva makes the straps on this style much longer as size goes up.