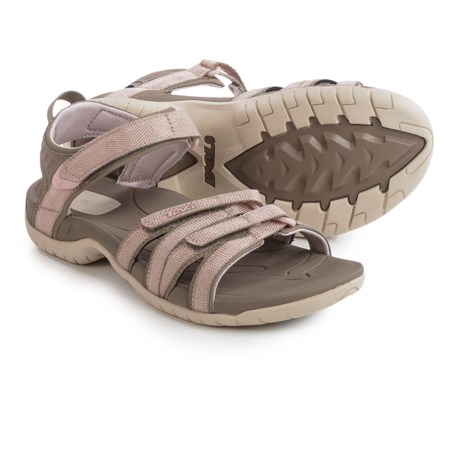 I can't answer an exact amount. They don't tire my feet on a two-three hour hike or when I wear
them for several hours. The straps are very light with sturdy soles--medium perhaps. Don't know if this
helps.

Ok I took one and weighed it for you. 7.5 ounces per shoe. ?????? very light weight but strong support and very comfortable.

I just placed my Teva's on the regular scale and it did not move. In other words: it is less than a pound......in fact, I would guess it is more like 1/4 pound. So not much. I don't have any other scale for an ounce reading............sorry!

They are very light feeling on your foot, I cannot actually weigh them, but not clompy feeling at all.

Mine weigh 1 lb 1 oz. I think they're size 8.

The specs say 8.5 oz. They are pretty lightweight. I think they compare pretty much to my lightweight Saucony running shoes.

Don't have the actual wt but they are very light. Much lighter than Keene


~8.4oz each.

Don't know, but they are lightweight, unlike Chacos.

The two sandals together on my kitchen digital scale weigh just one pound.

According to the product specs tab: Weight (pair): 1 lb. 2 oz.