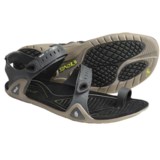 Closeouts. With the low profile, super-thin outsole and unbelievably revolutionary design of Teva's Zilch sport sandals, the minimalist in you will be jumping for joy! Zilch has all the performance features you'd want in a sport sandal without the bulk or the chunky look you'd expect to see.
Average Rating based on
73
reviews
4.178082
0
5
Reviewed by Jay from Seattle on Monday, January 20, 2014

I like the light weight of these sandals and how you can feel what you are walking on through the sole. On slick rocks or in the water your feet can wrap around obstacles a bit- not as much as barefoot but better than a rigid bottom sandal- so you have a larger contact surface. Spent 8 days in Costa Rica with these walking traills in the rainforest, wading in a river (rafting trip), and playing in the surf.

Reviewed by Saveufromit from Louisianna on Wednesday, July 31, 2013

First time to buy these type of sandals usually wear Soccer style because I don't like flip flops. These seem comfortable with a minimalist sole but has support. The Toe loop will take some getting use too but like them so far. Will have to wear more to really see how well they're gonna do.


Reviewed by Del from Florida on Saturday, July 13, 2013

Certainly one of the most comfortable sandals I've worn. This is a case where less is more. Enough sole cushion to guard against sharp pebbles. very comfortable to wear.

Reviewed by Mike from NJ on Thursday, April 25, 2013

Great fit and very light!

Reviewed by Comfort Seeker from Texas on Monday, April 22, 2013

Very comfortable sandal! Super deal on this Teva sandal...no others sites that I searched on the internet had this great deal!

Verified Buyer

Reviewed by hiker from Colorado Spring on Wednesday, February 27, 2013

Great fit and feel|Very comfortable to wear

Reviewed by Jim the runner from Sackatewa, OR on Tuesday, February 19, 2013

I borrowed these from a friend to try one day because we have the same foot size. However, immediately upon wearing them, I would have liked if they had been less. It is good to see companies hopping on the minimalist band wagon, but these are just too over engineered for my taste. If you want a true minimalist/huarache type sandals, check out Unshoes or Zero Shoes, both are much more simple if you're a true minimalist at heart.

Verified Buyer

Reviewed by Paleo Fatman from Southwest Texas on Monday, February 11, 2013

I use the Zilch primarily for minimalist running and walking but I also wear them for just running errands around town.

I've been searching for years for a sandal without a strap between the toes and finally I stumbled across the Zilch. Come spring and summer, my fee won't sweat. The sole is just thick enough to protect my feet from the worst of city streets and it's also VERY flexible. I anticipate the sole getting even more flexible over the next couple of months.

The description of the sole says "super-thin" but from the perspective of a minimalist runner, it is not super-thin. It's a little thicker than I like but, again, I expect after more miles the sole will get better.

The only problem is the strap across the arch; it creates a hot spot. I was too far away from the house by the time I noticed it and when I got back, the hot spot had turned into raw meat. I figure the strap will get softer with use and the skin will toughen up after a while. I hope. This is the reason I gave it 4 stars instead of 5.

Now that I've discovered the best running sandal, it's been discontinued. I bought two pair, hoping I will be able to go several years without having to find another running sandal.

Note: I've only had these for a few days and have only put about 25 miles on them but they SEEM to be holding up well.

Verified Buyer

Reviewed by Bob from Pilot Point,TX on Monday, November 26, 2012

Had to return the product. Teva used to be known for having an infinite number of adjustments. Several of their recent sandals are limited on adjustments. This one doesn't have an adjustable toe strap and the toe strap was too small.

Verified Buyer

Reviewed by RC III from Mtns, NC on Wednesday, November 14, 2012

I throw these in my backpack because they weigh very little. Once the hiking boots come off I use these around the campsite and in the tent.