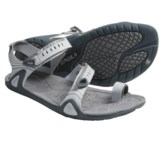 Closeouts. With the low-profile, super-thin outsole and unbelievably revolutionary design of Teva's Zilch sport sandals, the minimalist in you will be jumping for joy! Zilch has all the performance features you'd want in a sport sandal without the bulk or the chunky look you'd expect to see.
Average Rating based on
78
reviews
4.615384
0
5
Verified Buyer

Reviewed by yoga fan from Hartford on Wednesday, April 29, 2015

I left my first pair behind, by accident, at a hotel and didn't realize this until much later. I like these enough that I decided to buy another pair. While their color and texture isn't terribly attractive (they sort of look like light grey plastic), the toe ring keeps my feet aligned, and the sueded footbed means there's no squeaking or slipping if they get a bit wet. While they are not anti-microbial and can get a bit stinky, I tossed them in the washing machine and the problem was resolved. They have a fairly thin sole, which I actually like - if you're looking for something very squishy, these are not your shoes. There is a little bit of an arch support, but there isn't much.

Verified Buyer

Reviewed by Hiker13 from Seattle on Sunday, March 22, 2015

These are the best minimalist sandals I've seen on the market ever. Love these as backpacking extra shoes.

Verified Buyer

Reviewed by Anonymous from Colorado Springs CO on Sunday, November 16, 2014

Light, comfy - no blisters or issues, no break in -- very easy to walk in!
They feel like you are barefoot!
The soles are thin, but that is the comfort I wanted in sandals.
I have purchased several because they are that great of a sandal!

Reviewed by WildernessAtHeart from Washington on Wednesday, August 27, 2014

the best thing about this is verryyy light and easy to wear it for anything... very comfortable! U won't be sorry if u get this one..

Verified Buyer

Reviewed by WHY T H20 from Nevada on Monday, August 25, 2014

I love these sandals. They are light, easy to clean have great arch support and they are grippy on wet surfaces. My first pair is holding up nicely my second pair is fo when I wear those out which does seem to be very soon. I use this pair on rocks, trails and in the water, they can handle it wear is minimal.

Verified Buyer

Reviewed by CaroleW from South Carolina on Wednesday, July 30, 2014

Fit/size was correct and they feel great. I normally wear an 8 so I ordered an 8 and the fit was just right. I've worn these sandals all day every day all summer. They're very comfortable, even when I wore them straight from sand to surf to street.

Verified Buyer

Reviewed by Louie Louie from Idaho on Wednesday, July 30, 2014

This sandal is great. It is the closest to a minimalist sandal I have found in half sizes. Mostly I wear zero drop in Merrell, but they don't make half sizes in sandals. The Zilch is extremely comfortable, cute, and pretty barefoot! It's very true to size also.

Reviewed by MomofTwoBoys from North Carolina on Tuesday, July 29, 2014

I've ordered 2 pairs of this shoe as backup for when I wear out the 1st pair - I love them that much! As one reviewer noted, they truly are gray vs blue, are super-neutral, comfortable, well-made and go with everything warm-weather related. I have very wide & swelling feet & it's hard to find comfortably cute shoes/sandals to wear, but these are great since they feature adjustable Velcro straps. The toe-piece is easy to get used to & doesn't rub, either (and my toes are like fat little sausages!) I've really enjoyed these Teva's this summer - great pricing through STP - thanks!

Verified Buyer

Reviewed by a.bear from The steamy jungles of central Ohio on Thursday, July 3, 2014

I am a women's size 9 D width with a high instep. In Vibram 5-fingers, I have to wear men's, and the only ones that fit are the ones with laces.

These sandals fit perfectly. Awareness of the toe loop comes and goes - it isn't a Big Thing. I haven't done anything terribly strenuous yet, but these are soooooooooooooo comfy for walking, and so much cooler than my 5 fingers. Straps adjust to accommodate even my ridiculously high instep.

I've only had them for a couple of weeks, so I can't comment on longevity. They are less "barefoot" than some minimalist shoes, but I am pretty well living in them this summer. I have not had the "ice skating" issue that some have when the sandal gets wet; maybe it's because my foot fills the shoe? They aren't river sandals, but I have worn them in driving rain. Once you take them off they dry pretty quickly.

My only head-scratcher is why these are called "blue." They are a light gray in any light - though I haven't checked UV.



Verified Buyer

Reviewed by Sporty Older Mom from Arizona on Wednesday, June 18, 2014

These sandals are fantastic! When I first put them on, the middle strap rubbed a little, so I was worried, but a few wearings and I don't feel anything but softness. I actually bought another pair. I've been running in minimalist shoes, so I'm used to the feel of the ground that these provide. Love them and they are a nice color and cute besides.