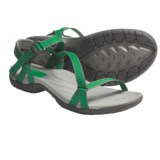 Closeouts. Teva's Zirra sport sandals feature a daintier look with Teva's same rugged sport performance, perfectly shaped for women's feet and made to fit and flatter with a grippy, water-ready design.
Average Rating based on
173
reviews
4.398843
0
5
Verified Buyer

Reviewed by Swedish girl from Deep coastal south on Wednesday, March 16, 2016

Love these sandals. They are athletic and can get wet yet they are feminine and not clunky. Very comfortable and delivery was quick and price was reasonable for product. Very pleased with purchase.

Verified Buyer

Reviewed by alpinemtngoat from alpine utah on Wednesday, March 9, 2016

so happy to find these. I have a similar pair that I love and showing wear, glad these came available

Verified Buyer

Reviewed by Deb from Washington on Thursday, March 3, 2016

This sandal is light weight and has a great footbed with good arch support. It is cute and the fit was perfect for my narrow foot. I love the colors and will be traveling to Europe with it this spring.

Verified Buyer

Reviewed by Marie from Tennessee on Saturday, February 20, 2016

Well actually it was the second step that was comfortable. I had to trim off a rough seam edge, but other than that minor adjustment, these sandals fit great and are comfortable. I figure they will be a go to sandal for summer wear. I ordered a half size down as someone had suggested which was good advise.

Verified Buyer

Reviewed by Moby's mom from Upstate New York on Wednesday, February 3, 2016

I love Tevas. I have three other Teva sandals. I have not worn these as it is too cold for sandals. I am looking forward to wearing these for many years. Teva's hold up great, are stylish, and so comfortable. Never go wrong with Teavs.

Verified Buyer

Reviewed by Pamela in Zambia from Maryland to Zambia on Sunday, December 27, 2015

I bought these to take with me on my one year Peace Corps assignment in Zambia. I decided to wear them for a full day to get the "feel" of them before packing. Wow! these shoes are great! I wore them on Christmas day - spent the day on my feet on hard stone floors that usually cause my heels and knees to ache the next day. Next day....nothing! No foot pain, No knee pain. I actually missed them when I took them off to go to bed.
They're also pretty stylish looking - no clunky hiking shoe look.

Verified Buyer

Reviewed by BookMama from CO on Saturday, November 28, 2015

These are very light. They looked cute and were comfortable but the straps are pretty thin as is the sole. They would be great for wearing around the house and town but I can't see them being very supportive in any sort of outdoor activity. I just needed something more sturdy so I sent them back.

Reviewed by Livin' the dream from Montana on Monday, October 26, 2015

We got these for my wife for a recent trip through North Africa. They looked great, wore very well, and proved comfortable walking through the souks and the sands. They pack easily as they are more compact than normal Teva river/hiking styles. Sizing was spot on as well.

Verified Buyer

Reviewed by Out from California on Friday, October 2, 2015

A lot of people recommend buying a size down in these, but my recent (9/15) purchase of these shoes shows that they have adjusted their sizing! I bought my usual size 10 and they were noticeably shorter at the toe and heel, making for a much more comforable fit. I have my pair purchased three years ago and I can see the older shoe is slightly longer. It always felt a little flappy and I had considered ordering a half size down, but am glad that I didn't now. The new pair feel much better in size. I would recommend order your usual size in these now.

Besides that, this shoe is amazing. I bought my old pair before a trip to India and wore it every day there and practically every day since then. They are light and comfortable and look nice enough to wear with skirts and dresses, but still tough enough for hikes. My old pair is totally worn down now, but still comfortable! I really recommend these sandals.

Verified Buyer

Reviewed by Midwest Outdoor Enthusiast from Indiana on Tuesday, September 22, 2015


Quality: The overall quality and construction is very high. It is a well made and thought out sandal which is what we have come to expect from Teva.

Comfort: These sandals feel very light weight on your feet and the cross over strapping make them an excellent choice for fitness walking with no rubbing or chafing as well as a great water shoe. There is also a rubber pad on the back strap around your heel providing padding. I have worn them for a couple months or better in a variety of settings and I have had no problems with any of the connectors causing rubbing.

Style: They have a feminine look and feel about them. There is no excess anything on these sandals. They are bare bones rubber sole and strapping. Because of this they are sporty enough to wear walking but classy enough to wear with a dress or skirt. I purchased the solid black version which I think adds to the elegance and versatility of this sandal.

Gripes: Because of the intense lightweight quality of these sandals with no excess, I barely had enough strap to allow my foot to enter the shoe without difficulty. I definitely could not put them on while standing up/on the go. The sandal is my size and fits elegantly once I can finally cohearse my foot into it's place, but it's difficult to get it there. Also because of the lightweight quality I'm not sure this would be the best choice to protect your feet for hiking on rough terrain. In short I would not classify them as rugged sport performance sandals. They are more on the dressy side with enough substance for a little sport. I took a star off for skimpy on the strapping, and a little too light weight for me to feel safe hiking in them.