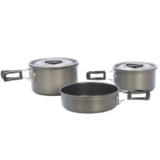 Closeouts. Cook up a post-hike feast on a camping stove or over the campfire with Texsport's The Scouter Black Ice anodized mess kit, which includes two pots and one fry pan all made of abrasion-resistant, hard-anodized aluminum with Quantanium nonstick triple-coating for easy clean up.
Average Rating based on
32
reviews
4.500000
0
5
Verified Buyer

Reviewed by Keith from Albuquerque on Sunday, July 10, 2016

The sizes of non stick pots and pan are just adequate for heating/cooking, but only over a burner not a campfire. The handles are floppy and will not stay in any position, the plastic on them is not heat resistant and will melt. This set came with the plastic handles already broken and the large pot bent out of shape.

Verified Buyer

Reviewed by mokadet from Virginia on Friday, May 27, 2016

Great for two people (maybe three) car camping. Handles fold in for storage, but don't get lost like the removable handle. Easy to clean.

Verified Buyer

Reviewed by Lynnbug from Maryland on Wednesday, May 4, 2016

I haven't actually used this yet but I plan to this summer. It seems well made and has a nice non-stick surface. The frying pan is small but it should be OK for two people. The reason I bought this type of kit are the attached handles. I have a cook-kit now that I hate because it uses a detachable handle and it comes off when you pick up the pan - NOT good with hot bacon grease!

Verified Buyer

Reviewed by Boyd White from Nevada on Thursday, March 3, 2016

Nice compact camp cooking set. Wire handle bars that minimizes the fire from melting them were they plastic. Slightly larger than the cheap cook sets which is good if you are boiling food like rice. Very satisfied.

Verified Buyer

Reviewed by Craig from Tennessee on Wednesday, April 15, 2015

Half of one of the handles broke during my first use over a camp fire. Luckily there was enough handle left that no one was hurt.

Verified Buyer

Reviewed by Weirdwillie from Sarasato, FL on Wednesday, March 11, 2015

Very nice nested pot set for backpacking. Light and each pot has built in handles. This is the second set I bought since I gave my first set to my son. The largest pot holds enough to feed about 4 people for your average dinner.

Verified Buyer

Reviewed by cjinak from Anchorage, AK on Thursday, February 5, 2015

Seemed like a nice multi-pieced cook kit. I haven't had the chance to use it. I may be overkill for the type of camp cooking I do, but I like having the options of several different sizes, and the non-stick layers. No one wants to scrape a pan while you are camping..

Verified Buyer

Reviewed by Golfwheels from chicago, il on Thursday, January 22, 2015

This set is exactly what I needed; a smaller (but not too much) that functions well for 1-2 people. I plan to use it for sea kayak camping and I usually lean towards lighter gear that takes up less space. I'd also use it for backpacking. non-stick coating seems very solid, handles are sturdy and non-stick surface makes cleaning a breeze.

Reviewed by TJ from California on Thursday, December 25, 2014

I think you'd be hard pressed to find this kind of quality at this price.

While it's overkill to have a three piece set for a backpacker what it does offer is options which is why I purchased it. I almost always just take the small pot and have used it probably 150 times. Despite a few small dents on the bottom it still looks like new. A bit of the rubber protection on the handles broke away recently but considering what I paid and how well it's held up that's a non-issue.

I do take care to always line the interior with a paper towel or camp cloth if I'll be carrying my stove and utensils in it. You'll want to avoid any metal hitting the coating as it will scratch.

Super easy clean up, (just wipe with a moist towel) decent weight if you're just taking a piece or two and the carrying sack it came in lasted much longer than I thought it would. The lids don't secure to the pots but they fit perfectly. Just tossing something else in the bag and tighten it so it won't rattle in your pack.

This is a super solid set offered at a ridiculously good price. An excellent buy.

Verified Buyer

Reviewed by CarynWS from Connecticut on Tuesday, August 5, 2014

Haven't use it yet, though. Next week is the big outing, so I will get back to you if it isn't great!