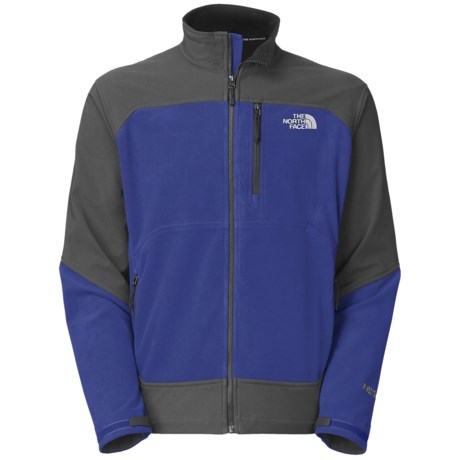 Definately a Windstopper and lightweight!
Reviewed by High Desert Tech from Albuquerque, NM on Friday, May 3, 2013
PROS: I'm glad I finally got a jacket that really stops the wind, but I am equally glad I didn't have to pay full retail thanks to STP and shipping was quick (free shipping would have been better of course)!

I'm always excited when my STP stuff gets delivered and was particularly excited to receive my new jacket because the temperature had dropped and it was a perfect time to try it out! So I grabbed it out of the box, threw it on and headed off to my daughters track meet. The sun was shining and the wind was not blowing as much as I had hoped (not what I normally wish for). I walked and sat around with my jacket half unzipped the whole time! I couldn't have done that with any other lightweight fleece or hoodie. I was plenty warm and the jacket stopped the wind dead in it's tracks! I couldn't feel the wind and I only had a short sleeved t-shirt on under the jacket!

CONS: Ok, so I know I am short 5'4" and 140 (no comments please), but this jacket was made for (as my daughter says) "somebody with monkey arms", the sleeves barely expose my fingertips if fully extended. So needless to say they are bunched up a little on me, but I love the velcro at the cuffs. The jacket also fits a little snug. So if you want to layer and wear something heavier than a t-shirt under it, try ordering a size larger. Then there's the drawstrings at the waist...I like that they are there, but they terminate in the pockets! What the...? I have never seen this on any jacket before so I had to laugh! You can either have them dangling out the bottom or as my youngest said "you can just play with them in your pockets when your standing around doing nothing", again, laughing! Anyway, I think I may just untie the end, pull them out of the pockets, cut them to the length I want and tie them right next to the little cord-locks.

Overall I like the jacket very much. I got what I was looking for, a lightweight jacket, that stops the wind and keeps me from being chilled with just a t-shirt on out in the blowing wind at temperatures of around 40 and above. The only other way I had to keep the wind at bay was to wear a lightweight fleece under a leather jacket. The North Face Pamir Windstopper jacket does both, is lightweight and I'm sure it will be at least alittle water resistant too.

The only other thing I could say about this purchase is I wish I could have gotten a bigger discount! Who wouldn't right? But I have been happy with all the purchases I have made from STP. I'm sure it's hard to discount the big brands anymore than they do, but keep trying STP!

Thanks!
Most helpful positive reviews
Most helpful negative reviews
Similar items and more information in the following areas: