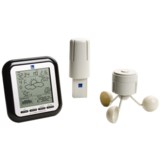 Closeouts. The Weather Channel's Professional Wireless Weather Center tracks and displays wind chill, wind speed and dew point, and stores a history record of up to 140 different measurements for use in tracking patterns.
Average Rating based on
17
reviews
3.529411
0
5
Reviewed by Disappointed from New Hampshire on Sunday, April 20, 2014

Initially bought another la crosse weather station, did not work right out of the box, touch screen would not respond, so I returned it and bought this weather channel weather station. I did not realize it was also la crosse when I bought it, otherwise I would not have. After about a month, the top right corner of the led screen went black. As this only shows the date, I was willing to deal with it. Then a month later, the signal from the remote wouldn't be detected by the base unit even after changing batteries in both pieces. So basically the unit is useless and going in the garbage. Sierra trading post should stop selling this garbage. Do not buy this model or even brand


Reviewed by kestrel from NC on Tuesday, March 25, 2014

works great, long range, but the wind speed sensor has a wire that has to be hooked into temp sensor, no bigger, we have ours mounted 100 feet away under another building, so hide from sight...

Reviewed by rick from Sacramento Ca. on Friday, March 14, 2014

. The first one was defective and returned for another. The second is o.k. but it forecasts rain when none is forthcoming for at least 3 to 5 days

Reviewed by Bmah from NH on Wednesday, March 12, 2014

Not worth the time to try and set this thing up. It would be fine if it were truly wireless, it is not. The cable connecting the annanometer to the wireless hygrometer/thermometer is probably 100' long. What to do with all of the extra 95' of cable if you only need 5'? I wasted more time than I care to admit trying to shorten the cable and splice it together to a workable length, all to no avail. The appropriate place for this is the landfill where the one that I bought is headed.

Reviewed by Gary from Vermont from vermont on Thursday, March 6, 2014

item claims to be wireless when in fact there is a wire that connects the two outside pieces wind meter and sending unit also I've only had for 5 days but the unit flatlines when it gets cold outside even though it claims to be good down to -40 Contacted lacrosse support [which you can only do via email and they say they'll get back to you in 5 days or so they say they are very busy. it has now been 4 days and no word yet so i am going to wait and see if they have any magic answer but not very impressed so far

Reviewed by rick from Sacramento on Monday, March 3, 2014

I had to return it . The connecting cabel between the wind sensor & transmitter did not make a good connection and the wind guage and wind chill portion of the receiver could not give a reading. Otherwise the reciever functioned O.K. with the information it provides. One note ,however, the station does not give you the current conditions such as cloudy, rainy day ,sunny etc. Instead, it trys to predict the forthcoming weather. My station predicted rain 3 days in advance although some days were bright with few clouds. It did rain ,however.

Reviewed by frankie from California on Thursday, February 13, 2014

This item is a gift to a family member that has not yet been given. So I can't rate the product. But I can rate the STP service. The order was processed accurately and promptly. It arrived on schedule, well packaged. Rating for service is five stars. Product rating will have to come after the gift is opened by recipient.

Reviewed by Shagmomma from Boulder, CO on Thursday, January 23, 2014

This was a birthday gift for my husband. He loves it!! It was easy to set up. Contrary to another review, it is actually wireless. There is a "phone cord" that connects the wind meter and the hygrometer only. The display unit is wireless. So there is no having to feed a cord through a window, etc... We live in Colorado where the weather can change in a matter of minutes and it has been really fun watching our weather station in action!!!

Reviewed by ncboatgirl from North Carolina on Wednesday, January 22, 2014

I bought this weather station for my husband to use at our lake house. The wind blows there all the time and with the wind gauge, this was the perfect weather station. It was easy to install. The gauge has a 300 ft. wireless range so it wasn't an issue to put the wind gauge on the dock and have an accurate reading in the living room of the house. The only issue of concern is the battery life - we will wait to see how long they will last. Our old unit with without the wind gauge only needed batteries about twice a year. Love it so far!

Reviewed by Ann from Central NY on Tuesday, October 22, 2013

I own one, this was a gift for friends. I find meine very handy and useful. Took a little while to learn how to access the history records.