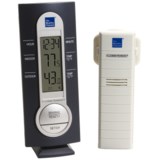 Closeouts. Small and unobtrusive, The Weather Channel's wireless thermometer neatly displays the indoor and outdoor temps, along with the time.
Average Rating based on
28
reviews
3.857142
0
5
Reviewed by John from Santa Fe, NM on Thursday, January 2, 2014

I liked this for the first 8 months I had it. Then the outdoor temperature stopped registering. I changed the batteries, to no avail. It's on its way into the trash can.

Reviewed by Sugarloafer89 from Rhode Island on Thursday, September 19, 2013

This is a simple weather station, indoor temp, outdoor temp and time. Don't expect anything more and you'll be happy. Easy to install (two screws) and set up.

Reviewed by Review Guy from Cooperstown on Wednesday, July 31, 2013

The weather Channel Wireless Thermometer is easy to read. Most importantly, becasue the thermometer's outdoor sensor is wireless, you can locate the base unit in the house where it can more accurately give you the indoor temperature. Thermometers with a theathered sensor have to be located near the window where is is tradionally colder or warmer than the room.

Reviewed by Martin from Knoxville, TN on Monday, July 1, 2013

This was easy to set up and worked for about a week. Then, as reported by another reviewer, the outside temperature simply quit working and showed simply two lines. No amount of resetting would work. This is a dud and not worth buying at any price unless you need an indoor thermometer and clock, because that's all that works.

Reviewed by Neo from San Francisco Bay area on Saturday, June 22, 2013

Product worked for one day. Then the outside temperature would not register in the table top unit, instead it gave two lines "--". Tried a couple times to reset, as the instructions are very specific (you have to take batteries out of both units for at least ten minutes, then put the batteries back in while keeping the units between 3 and 5 feet apart, and the units should start communicating after 15 minutes). but did not work. Very disappointed

Reviewed by Tallahassee lassie from Florida on Tuesday, June 18, 2013

This is the second one of these I've purchased. Set up is easy if you follow the directions. I am using this one for my travel trailer. It transmits through the metal trailer wall. The only problem is finding a place that is consistently dry.

Reviewed by BeautifulDreamer from Colorado on Monday, June 17, 2013

Great price.

Reviewed by SpamLess from Western N. Carolina on Tuesday, June 11, 2013

It is every thing I wanted and it works great!!!!

Reviewed by Pastor Mark from Nevada on Thursday, May 9, 2013

This thermometer performs very well and is a perfect addition to my study.

Reviewed by KeokukTed from Colorado on Tuesday, April 30, 2013

It is nice to have a thermometer where the sensor unit can be placed in the shade so we can get an accurate reading. It seems pretty accurate and it was easy to set up.