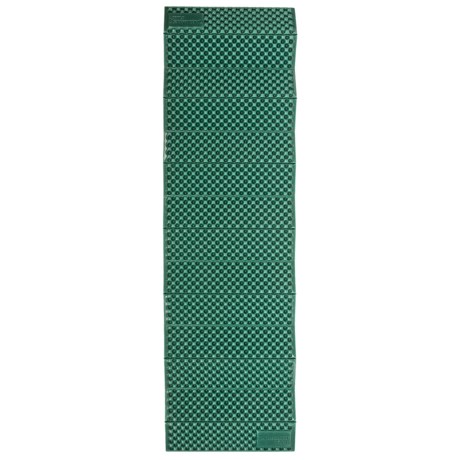 Yes, and definitely no sewing required.

Yes, as a matter of fact I just cut off several of the folding panels to fit my wife. Just cut along any of the folds, it is foam so no sewing is necessary.

yes, it'd be super easy to cut it shorter. You could just take a pair of scissors and cut along one of the folds.

I assume it can be cut to make smaller but why when it weighs so little & the extra length can be kept folded & used as a pillow.

Absolutely. We did the same thing with our older but identical pad. super easy to cut with a blade or scissors along the folding seams, and still very easy to cut anywhere else. The foam pad will still be intact if you cut it outside the folding seams, but you'll get fraying of the material over time and use (not a big deal). We cut ours 2/3rds and now have a child pad AND a stadium/hiking seat.

Absolutely. That's one if the real appeals of this pad. And, if you trim it down, you can used the trimmed sections as sit pads.

Yes, this could be cut. It's foam. If it were cut along a fold, I think it would be fine.

Yes, It is a foam, pad, so you can cut it to any size you like without any negative side effects.

Yes, you should be able to cut this. You would not need to sew it due to it being made from foam.