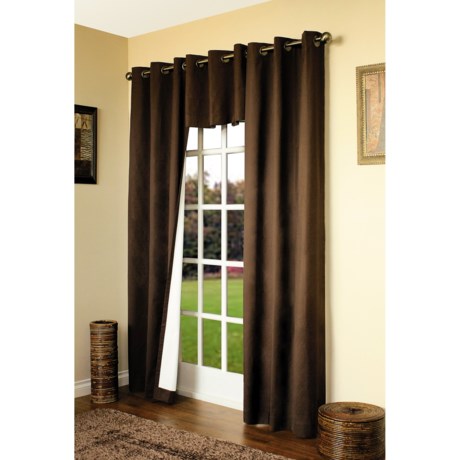 Good for the hard-to-find large size, color offerings and price. But be prepared for wrinkles.
Reviewed by Hallie from Delaware on Monday, October 14, 2013
Positive:
-If you're looking at these curtains, you already know how hard it is to find curtains for wide windows and sliding doors online.
-I like the khaki color a lot. We had covered our other windows with a lighter off-white, but this particular door sees a lot of use and is near the fireplace, so I wanted to get something a little darker that wouldn't show smudges or soot as much. This color does fine.
-I didn't really spend time measuring the lengths, but no big length discrepancies pop out at me

In between:
-They're sort of black-out, but not as much as the previous curtains I'd bought from another company. I'd say they block out 75% of light. They are thinner than the other black-out curtains I have, which blocked 90%.

Negative:
-My husband likes that the back side of the curtains are white, but I wish they were the same color on either side (this is something I knew when I bought it).
-It is really, really hard to get out the wrinkles. I was hoping we could throw these in the dryer with a wet towel, like we did with our other curtains, but reading reviews online told me that these will potentially shrink by inches if you do that. So no dryer! Instead I ironed them (even though the instructions call for minimal ironing - how do they expect us to get the wrinkles out??). Ironing them did not damage them in any way, even though I spent about an hour per panel doing it. The problem is, ironing them also did not get all the wrinkles out. It's a vast improvement, but there are still a bunch of hairline wrinkles. And when you grip the sides to open and close them, it can add to the wrinkles. We're thinking of borrowing a steamer to try to touch up my ironing job.

Bottom line:
-The wrinkles are a real pain in the behind, but I'm not sorry I bought them because I like the color, they were the right size, and most importantly, they are really cheap. They were less than half the price of the other curtains I bought (which were a nicer material without the ironing headache). If money is not as much of an object to you, I would say look for a pricier, higher-quality curtain. But these really aren't bad. I just wouldn't want to spend the time ironing if I could afford not to.
Most helpful positive reviews
Similar items and more information in the following areas: