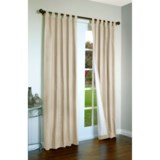 Overstock fabric. Keeping your house cooler in summer, warmer in winter and darker and less noisy year-round, Thermalogic Weathermate curtains are perfect companions for energy-bill watchers.
Average Rating based on
174
reviews
4.172413
0
5
Verified Buyer

Reviewed by Gayle from US Virgin Islands on Monday, October 5, 2015

From the little I saw, the curtains were probably fairly good quality. I didn't even take them out of the packaging because I knew immediately they were going back. I ordered the color "natural" expecting an off-white, a light tan, a linen. The color I got looked more like something from the yellow family --- I would have called it buttercup. I think the color was totally misrepresented! Because I live in the US Virgin Islands (serviced by the USPS) and had ordered 7 pairs, I had to pay the return postage of $100.00. I was given a store credit of $29.95 (the original shipping charge).

Verified Buyer

Reviewed by Annie from Ohio on Friday, September 25, 2015

I love these curtains! Great quality, the backing is not obtrusive, but I know this winter, I'll sure be glad it's there. My only complaint is about how hard they are to iron, and because they are wadded up into the smallest package possible to ship, there's lots of wrinkles. The backing makes them really hard to iron, even on the hottest setting. But that's the only thing I don't just love about these drapes.

Verified Buyer

Reviewed by bestill from Colorado on Monday, August 3, 2015

Ordered 3 sets of pairs. Two sets have a more sheer backing, allowing some light to filter thru and give them a golden color that I love. The other set has a thicker backing that shows just the khaki color. It's ok that the sets aren't the same since they are in two different rooms, however if one needed 3 or 4 panels and only ordered 2 sets, they would not be the same.

Reviewed by Scarey from Northern Virginia on Monday, January 26, 2015

I ordered three sets of these in the slate blue color. Two sets seemed OK, but the third set smelled like a dead animal had been wrapped in them before they were packaged. I should have just sent that set back, but I decided to wash it with vinegar to see if the stench would wash out. My husband proceeded to wash the set 5 times in cold water, because the smell was still there. The good news is that the stench is mostly gone, but the bad news is that the color also faded a lot and they don't match the others now. The creases and wrinkles did come out in the wash, but a lot of the backing stuff also came off, so now when light shines behind the curtain, you can see all the places where the backing washed off. I don't know if these are going to work or not. The unwashed ones are very creased and wrinkled, and given the acrylic backing, I'm not sure we will be able to get the wrinkles out. I will try to steam them first, and maybe wash once to try to get the color more like the stinky pair. I have looked forever for curtains this color and I'm disappointed that these are turning out to be such a nightmare.

Verified Buyer

Reviewed by Amanda from Vermont on Friday, January 16, 2015

Overall I am very pleased with these curtains. I ordered the sage green and they look great in my wood home. There are a few spots where the fabric is thin and you can see light through them, but not many and I think it's worth it for the great price. The curtains are definitely doing their job to insulate my single pane windows in Vermont!

I didn't have any problems with smell like some people did. The curtains are very wrinkled when they arrive and because of the size they are difficult to iron. We're hoping ours straighten out a little bit as they hang. Also they are heavy, you'll need a good sturdy curtain rod.

Verified Buyer

Reviewed by Paxie from North Carolina on Wednesday, November 12, 2014

Excellent product, well made

Verified Buyer

Reviewed by cindy from Amarillo ,.tx on Wednesday, October 8, 2014

These curtains are very well made and I love the color

Verified Buyer

Reviewed by cindy from Amarillo ,.tx on Wednesday, October 8, 2014

These curtains are very well made and I love the color

Verified Buyer

Reviewed by Just Linda from Colorado on Thursday, August 7, 2014

These curtains fit the window better than the ones I was replacing. The difference in blocking the heat is amazing. The wrinkles are smoothing out on their own. Slowly, but I'm patient. I highly recommend these.

Verified Buyer

Reviewed by kjn from new york on Saturday, July 19, 2014

I have bought two other sets of panels to try and cover a patio door and finally remembered that STP sometimes had curtains in their flyers! Why not look? These are just what I was searching for; good coverage and a decent curtain for a reasonable cost.