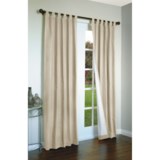 Overstock fabric. Keeping your house cooler in summer, warmer in winter and darker and less noisy year-round, Thermalogic Weathermate curtains are perfect companions for energy-bill watchers.
Average Rating based on
191
reviews
4.073298
0
5
Verified Buyer

Reviewed by forestwench from Northern NJ on Friday, October 10, 2014

I am going to follow the advice of others that bought these curtains and wash and iron carefully. yes, the creases are a pain, but I have bought these before and with patience it all works. I needed 6 pairs and they are well worth the price. I bought the pale blue - its close to what used to be called Wedgewood.

Verified Buyer

Reviewed by Happy Shopper from California on Tuesday, September 30, 2014

These curtains look great. The wrinkles came out with a good steam iron. I hung them and used clothes pins to help set the pleats. There was one curtain (out of 10) than had a crooked stitching on one edge, but I fixed that. The quality for the price is great. I haven't gone through a winter yet, so I'm hoping they are effective in keeping in the heat.

Verified Buyer

Reviewed by Toosun Woman from Arizona on Monday, September 29, 2014

Love these, great quality and look very nice when up. You do have to iron them before putting them up as the wrinkles don't come out hanging. I now have these on 6 windows in my house.

Verified Buyer

Reviewed by WAScum from Anacortes, WA on Thursday, September 25, 2014

The product was great. The curtains seemed to be as described and would be "warmer" in winter/"cooler" in summer but we were looking for a more "olive green" color and these were much lighter in color than they looked on line. I wish the color was more in line with what we were looking for because I really liked the product. Oh well.... returned the items but would purchase again if the color was right.

Verified Buyer

Reviewed by Katrina from NY on Friday, August 22, 2014

I was especially pleased with the color and quality of these drapes! To remove creases from being packaged, I decided to gently machine wash, hang outside to dry and then iron before hanging them. They look great and give an element of privacy, being room darkening.

Verified Buyer

Reviewed by Frances from Kodiak, Alaska on Wednesday, July 9, 2014

I like the drapes but I am still trying to get the creases out. Instructions say to wash in cold water and line dry, you cannot iron them because of the thermal backing. Creases are still there.

Verified Buyer

Reviewed by ozdog from CA on Wednesday, June 25, 2014

Probably more of a 3.5 star… I didn't notice any smell as other reviews have stated. These were decent quality. Two issues I had with these though. One they were too short (not stp fault, but mine), and two they didn't provide enough sun blocking. These were to be hung in a room with full sun and they let quite a bit of light through so I will return for something else.

Reviewed by Sassy Granny from Puyallup, WA on Friday, June 13, 2014

If I never had to touch, open or tie back these curtains, they'd be great. The quality of craftsmanship is visible; they are well made and very good looking. However, the fabric wrinkles horribly when gathered, such as I do with tie backs. I was disappointed and had to send them back.

Verified Buyer

Reviewed by Janis from Michigan on Tuesday, May 20, 2014

The stitching and weight of the fabric seemed impressive before washing. The stitching survived a cold wash but the wrinkles appear to be permanent. The curtains were line dried but that did not appear to help the situation. Because of the backing I would be very hesitant to apply steam.

Verified Buyer

Reviewed by CGS3 from WY on Monday, May 19, 2014

OK for very inexpensive curtains...but 63" has a different transparency/color than the 54", some splotches in sunblocking, some loops different heights than others and yes there is an odor at first.