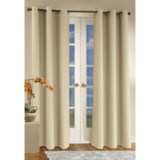 Overstock fabric. Energy-bill watchers prefer Thermalogic Weathermate grommet-top curtains because they keep your house cooler in summer, warmer in winter and darker and less noisy year-round.
Average Rating based on
69
reviews
4.072463
0
5
Verified Buyer

Reviewed by Nana from New england on Sunday, November 8, 2015

Great quality- I use these curtains in almost every room- different colors- they really keep the cold out
Colors are true, wear well
Great orice

Reviewed by Cjpeters from Minnesota on Saturday, August 1, 2015

I washed these as instructed and noted rust around the grommets. This fabric also needs to be ironed after washing and it isn't easy getting these curtains presentable. They are inexpensive but still Sierra has offered mush better quality in the past. Very disappointed in this purchase

Verified Buyer

Reviewed by Susan Hammonds from Tennessee on Tuesday, February 24, 2015

Nice product for the money and what I needed for my window. They sent me one size which was wrong and not what I ordered, but I sent it back (return label was enclosed, so I did not pay to ship back; just my time and a trip to UPS) and they sent me the right length one. I'm just glad I was in no hurry to get these up. The blue pair really stunk, but after I dried in the dryer with bounce, sprayed, and left outside for a day, they are ok but smell is still there somewhat (maybe in time it will completely go away. The lighter color that I also ordered had "NO" smell at all, so I feel the dye in the blue pair must be the culprit.


Verified Buyer

Reviewed by Anonymous from Pennsylvania on Wednesday, January 14, 2015

The curtains come pretty wrinkled with fold lines. I spritzed the wrinkles with water and ran the iron over them on the fabric side., being careful as I ironed. They turned out smooth and ready to hang. I like the grommets because they slide so easily on the curtain rod. The color (I got yellow) is very nice. This is not my first set of the thermalogic curtains from STP. great price for this product.

Verified Buyer

Reviewed by gingermesiah from utah on Sunday, December 28, 2014

Looks great and really warms the room

Verified Buyer

Reviewed by small town mom from California on Saturday, December 20, 2014

I am so happy with these curtains ! And such a good price!

Verified Buyer

Reviewed by HikerChic from Oregon on Thursday, October 2, 2014

These curtains in blue are reasonably nice-looking and block light well, but they are incredibly foul smelling out of the package. I washed them on delicate cycle with cold water and hung them to dry, but a week later the smell of fish was still overpowering. I read reviews to see what others had done, and washed them again on permanent press cycle in warm water with detergent and baking soda, then added white vinegar to the rinse, damp-dried them in the dryer, and hung them in an unused room for a week. The smell is almost gone. One grommet leaked a rusty stain around it slightly, the others all did fine. I think there must be several similar products sold by this company as the same curtains, based on the wide variety of experiences and smells that users have reported. Mine are OK, definitely fine for the price, and I will use them.

Verified Buyer

Reviewed by Mark from St. Louis on Tuesday, August 5, 2014

not much else to add - they server their purpose.

Verified Buyer

Reviewed by Hope from CA on Thursday, July 10, 2014

We were looking for curtains for the den to keep out the light for movie watching...these are PERFECT...in color, size, fabric, and design. That said, the darker color does the job more so that the lighter color we used for the rooms upstairs in a different size.

Verified Buyer

Reviewed by Anonymous from Cudahy Wi on Wednesday, June 25, 2014

Drapes are just fine. When I opened package had a smell. I washed and ironed. Smell lasted about a week.. Otherwise they are fine.