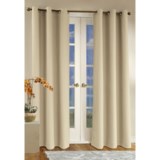 Overstock fabric. Energy-bill watchers prefer Thermalogic Weathermate grommet-top curtains because they keep your house cooler in summer, warmer in winter, and darker and less noisy year-round.
Average Rating based on
55
reviews
3.727272
0
5
Verified Buyer

Reviewed by BoWalk from Westminster on Monday, May 11, 2015

I receive the order less that a week. Packaging is excellent. The curtain material is good quality, well made. Thank you.

Verified Buyer

Reviewed by Not a complainer! from Wisconsin on Wednesday, February 25, 2015

I specifically ordered these drapes as 80 inches wide by 95 long. The packaging also states that. My window, including the frame is 75 inches, so I thought they would still work when closed. After spending tons of time ironing them, and getting them put up, I find they are only about 70 inches wide. They look terrible. Yes, I probably should have checked them before spending all that time ironing them, (the packaging wrinkles were terrible to get out), but be 10 inches of????

They are going back!! I feel it was truly false advertising.
There was also the smell that others had complained about. Color as expected.


Verified Buyer

Reviewed by Erin K from Massachusetts on Tuesday, February 3, 2015

Gave them 3 stars because of their manufacturing and sturdiness. But I ordered natural and they are yellow - not just a tint of yellow, but overall a pale yellow color.

Verified Buyer

Reviewed by ML from Nj on Monday, January 5, 2015

Now have these drapes in three rooms of my home. The insulated ones work well.

Verified Buyer

Reviewed by Diana retired from New York on Friday, November 14, 2014

I got a great deal on these drapes & they are so nice - thermal backing to cut the light & minimize fading.

Verified Buyer

Reviewed by jet from wv on Wednesday, November 5, 2014

I had to double the curtains to filter out light and some sound. one layer did very litle. still, it was a cheaper and better looking option than anything I could find elsewhere. this price was close to the best I could find on line the day I looked. they hang better when weighted at the bottom

Verified Buyer

Reviewed by Me from MS on Thursday, August 28, 2014

Good quality, but you really got to stretch the fabric to meet the stated dimensions. Doesn't really fully cover a standard size double window like you would expect.

Verified Buyer

Reviewed by Retired from MO on Wednesday, August 6, 2014

The colors were what I expected. The dead fish smell was overwhelming. Read the reviews. Drycleaners would have charged what I paid for the curtains to clean them and press them (would have had the drycleaner smell then). Tried washing them. Smell lessened somewhat. Plan to hang them outside to see if that helps. Won't buy anymore for the rest of the house.

Verified Buyer

Reviewed by carolina girl from Charleston, SC on Wednesday, August 6, 2014

This is a great deal! The curtains are attractive and feel like they are high quality. The only complaint is that width-wise they seem a little short. Otherwise they are plenty long enough. We bought the khaki due to the recommendation to avoid the yellowish natural curtains. They are the perfect color. So far they seem to be keeping the hot summer heat out and the cool AC in, which is the reason why we bought them. We have five sliding glass doors in our sunroom and put these curtains on each one. Highly recommend if you need some help keeping heat out!

Reviewed by Desiree K from Northern California on Tuesday, July 22, 2014

These are lovely! Great price! Yes, they're a bit wrinkled right out of the package, so get your irons out, put them on high (curtains are 100% cotton), use the steam feature and smooth them out. You won't be sorry.