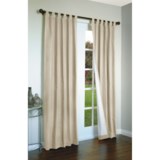 Overstock fabric. Keeping your house cooler in summer, warmer in winter and darker and less noisy year-round, Thermalogic Weathermate curtains are perfect companions for energy-bill watchers.
Average Rating based on
191
reviews
4.073298
0
5
Reviewed by Jaimee from tahoe on Saturday, February 27, 2016

Distinctly yellow cast to the natural color, fyi. Otherwise the same as other Thermologic curtains.

Verified Buyer

Reviewed by Steven the Sailor from Montana on Friday, January 22, 2016

The Thermalogic curtains arrived in good order and they were identical to ones I bought several years ago from Sierra Trading Post (a major plus to find identical curtains). The laundry directions told me to wash them and hang to dry, but I washed them and hung one to dry and dryer dried the other. As I had washed and dried the others many times, and they are getting older but are still in excellent condition, I thought this might work, and it did. There was virtually no difference between the curtains. Perhaps more significantly, there is no difference between the old and the new - they look the same.

On another note, the curtains are not all the same length, despite being advertised as such and labeled as such. I found as much as a half inch difference, between some pairs, but having multiple sets, I matched up those that were closest in length and hung them together. Effective, yes. And at the price, I wasn't particularly disturbed. Excellent price, excellent service, good product.

Verified Buyer

Reviewed by SDMama from South Dakota on Friday, December 11, 2015

Definitely keeps our room warmer, don't know how well these curtains do at keeping a place cooler yet though as it's not that time of year. I do wish they did a better job of blocking light. My husband works nights so he sleeps during the day, and the bedroom is still pretty light. The curtains would probably be just fine if you want light blocked only at night. We also got them in yellow, so maybe the lighter color has something to do with it.

Verified Buyer

Reviewed by Michelle from Colorado on Wednesday, September 2, 2015

I did not realize when I bought these that the tab-top was included in the 63" measurement - I had to return them and get longer ones, since the tabs do not exactly provide cover on the windows (and then I had to re-hang the curtain rod, but that's another story). No big deal, Sierra Trading Post makes it easy to return and re-order :-) But just make sure you are getting long enough curtains for your windows!

Verified Buyer

Reviewed by Janet from Wisconsin on Sunday, August 23, 2015

These were perfect for my bedroom! Just love how nice they look and how they do help with temp control

Verified Buyer

Reviewed by Dissatisfied from New Mexico on Friday, July 31, 2015

I was really looking forward to the new tab-top curtain since we own some several years old and really like them. Unfortunately, the curtains emitted a strong odor. Comparing the labels, the older curtains were made in Canada while these curtains were made in China/Pakistan. Not sure if the production method had changed but had to return the curtains since I was concerned about the chemical substances they may contain.

Verified Buyer

Reviewed by Ric from Minnesota on Wednesday, July 22, 2015

The curtains look very good and were easy to hang.

Verified Buyer

Reviewed by Ric from Minnesota on Wednesday, July 22, 2015

The product is easy to install and works just the way it's supposed to.

Verified Buyer

Reviewed by Conservationist from Montana on Monday, July 20, 2015

I bought these curtains for three rooms in my older home. I have no air conditioning and the house tends to heat up in the summer. To my amazement the inside temperature remained 5 to 10 degrees cooler than it had been only one day after hanging them all. I would recommend them, as they are truly keeping the heat out. I am excited to see the difference in my heating bill this winter where here in Montana it does get cold.

Verified Buyer

Reviewed by Riverrunnersc from Columbia, SC on Tuesday, June 30, 2015

This product performs as advertised. The windows receive full afternoon sun in "Famously Hot" Columbia, South Carolina, and the curtains provide noticeable reduction in heat build up in the bedroom.