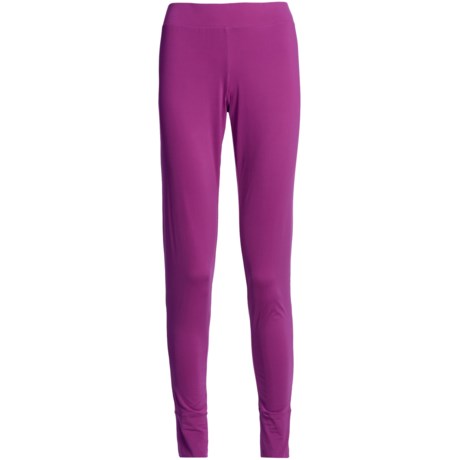 According to the product specs above: •Inseam: Regular 33" (based on size medium) The petite measures at 29" inseam (based on size medium). This item does stretch.

Hi! I purchased the Petite length pants intending to use them for both sleeping and hiking. I am 5'1" and I have am on the tall end of a petite in my legs and I am short waisted up top. The petite pants are still a smidge long in the leg but it's not bothersome. In fact, if I were to wear these hiking I would appreciate the little bit of extra slack for scrambling and challenging upward hikes. If your height was at the tall end of 'petite' - which is 5'5" I believe - these would be perfect in length. I hope this helps!

I only know the inseam on the petite size because that's the only pair I own and they are 26" inseam. By the way, these are AMAZING pants. I might have to purchase another pair. I love them. They fit like a dream.

These are seconds. You take a gamble on sizing and fabric which may vary for each garment. I ordered Thermaksin pants three different times, I was lucky that 3 pair were wearable, but the fourth, though labeled the same as the others, were too small and a very different fabric. STP advised me that buying seconds is always a gamble of this nature. Lesson learned.

This is a tough question to answer, simply because the inseams and waistband widths vary so drastically between the three pair of the same size Petite pants I ordered.

That said, the one pair that fits true to size (which was in the color black) has an inseam of 28 1/2 inches.

The two other pair I ordered (in fuschia and white) which are supposed to be petite have an inseam of 33 1/2 inches and 33 inches respectively, (and the waistband laid flat in a size XL vary by up 3 inches... so one pair is 5 inches too large in the waist, the other pair is 6 inches too large in the waist).

You might want to order with the caveat that sizing is all over the places; probably the reason they are marked as 2nds.