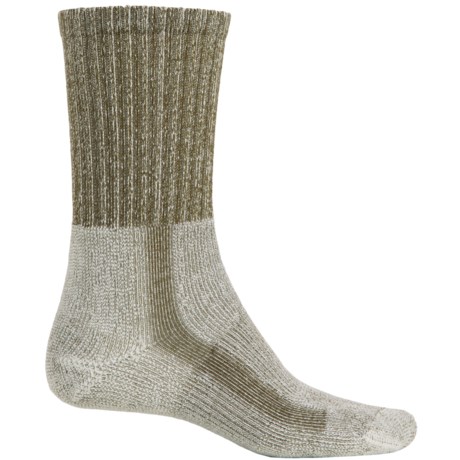 Long lasting comfort at a great price
Reviewed by I grok socks from Colorado on Friday, December 27, 2013
I work in a job where I spend all day climbing ladders and walking/climbing around on rooftops no matter the weather. Apparently, all the climbing and walking puts a lot of stress on socks as I go through them quite frequently. I purchased and was gifted some of these socks last year and at the same time purchased a couple other brands so I could pick what would work best for me. All of the other brands of socks are already worn out at the ball of the foot and stretched out at the calf. The Thorlos still look and feel almost new. They fit snugly without strangling, do not cause hot spots or blistering and are comfortable in any weather. The advertising points out their "moisture management in moderate to hot weather", but I also use them as a winter sock and they work great.
Whatever the blemishes are supposed to be, I've never noticed and frankly wouldn't care. They're hiking/work socks, not dress socks. With a couple of the latest "X% off" deals, I purchased 7 pairs. For the same cost at retail I would have only been able to buy 3 pairs and I suspect I won't need to buy socks again for years.
The only negative I would ding them for is the sizing. I wear a size thirteen which puts me into the XL 13-15 range. This results in there being more material in the heel than I would like. Surely there are people that do wear a fourteen or fifteen, but I bet there are far more that wear a twelve or thirteen. If I could get them to change anything, I would change the size range to something like: L 9-11 XL 12-14.
Most helpful positive reviews
Most helpful negative reviews
Similar items and more information in the following areas: