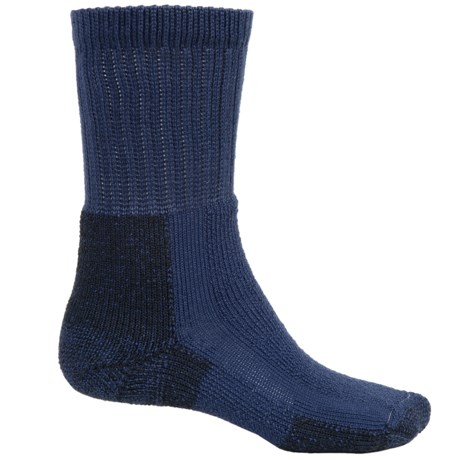 I believe these are KX hiking socks. I do not know if Thorlo has a numeric rating system but this is the product description from Thorlo.com for this specific sock. In addition to this product description, there are numerous other pages, on their website, that explain the benefits of Thorlos.

Designed for feet that hurt. Enjoying rugged day hikes or extended backpacking, in most weather conditions, on varied to difficult terrain resulting in moderate to significant stress on the feet. Specifically engineered to deliver maximum protection and comfort for men prone to blisters, foot pain, or discomfort.
Constructed with THOR•LON® fibers for superior softness, resilience, durability, and moisture-wicking for drier, better feeling feet.
Cushioned instep and arch for a better fit, more support and less pressure on feet for a more comfortable hike.
Low profile toe seam won't rub or irritate feet.
Unique padding specifically engineered for hiking, clinically shown to reduce blisters, pain, pressures and moisture for maximum protection.
Ventilation panel for extra moisture control and breathability.


The green socks I bought are level 3 protection.

I purchased these socks from the on-line store without comparing them to other socks in a store. I am fully aware of the importance of
support socks - as a runner. Based on my knowledge with running socks I would give these a a medium level for support.
They are the right length for protection around your ankles while wearing hiking boots.