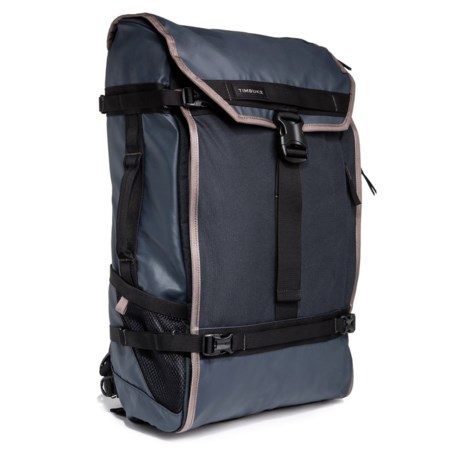 Nice, but not nice
Reviewed by good enough from Vermont on Friday, February 2, 2018
I work for a disaster relief organization and travel a lot in some pretty difficult conditions. I have never been able to find a daypack that suits my needs and was hoping this would be the one. I was looking for a bag that can carry some camera gear and about 2 days of essentials, is water resistant, bombproof, easy to use, and comfortable.

Pros: good water resistance (hard to find in daypacks for some stupid reason), sleek (doesn't have ten straps hanging from it like many hiking packs), zippers are big enough to add small padlocks which is nice when traveling, side handles are great, being able to stow the straps is a nice feature and works fine, but I'm not sure I'd ever need to stow straps in a daypack- that's more of a hold-luggage kind of feature.

Cons: Not the most comfortable when loaded, mostly because the clips that connect the shoulder pads to the pack near the waist belt are large and obtrusive. The shoulder supports are a bit wimpy. Due to the way the frame is structured it's big even when it's not fully loaded, making it difficult just to throw a few things in there and walk around casually for the day. I found myself wishing I brought a second, smaller day-pack with me which kind of defeats the purpose of a do-everything-day-pack. The side-back access computer pocket is a bit of a pain when there is stuff in the pack. I have a 13" laptop and I have to really put some force to get the darn thing in there all the way. Maybe it's the felt cushions or the way the fact the zipper opening isn't big enough to slide the computer in without rotating it. Access to the main compartment is a pain if you're using the second compartment (optional). You have to unbuckle three places, then unzip under an awkward second flap. I found myself ignoring that compartment as much as possible and using the top two compartments, which makes the pack really top heavy. Alternatively, you can unzip the second pocket and have one large top-load pack which is a fine workaround but the huge cavern becomes too unruly for a daypack that you're in and out of all the time.

Overall, it might be a fine pack for bike commuting or light traveling, just didn't quite jive with me and couldn't really support the weight that you would expect from a bag this size.
Most helpful positive reviews
Most helpful negative reviews
Similar items and more information in the following areas: