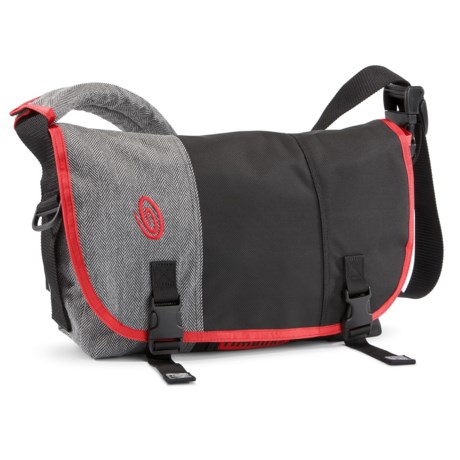 The material and design seems quite waterproof ..... the flap has good coverage. Get a size that won't be overfilled - reducing the flap coverage. There are many zippered pockets for convenient storage but they are not exposed directly to the weather. I think this will hold up well to a downpour.

Well, the materials themselves are waterproof. Since this is a messenger bag though, you will always have the area between the flap and the bag to worry about.
In general, if you don't over stuff the bag and keep it closed up nicely it should be fine in the rain. However, depending on how long your sons commute is and how hard it rains, you may want to look into something that has a zippered main compartment.
One other note from my college experience, many people put plastic bags over their messengers during severe downpours, as they would allow water to get in otherwise. Timbuk2 now makes rain covers for messenger bags specifically for these purposes, might be a worthwhile investment in your situation.

While I did purchase this in part because I wanted to be protected from the rain & snow during bike commutes or at bus stops, let it be known that I live in Colorado, which has much less precipitation than Denmark. I would be worried that in heavy downpours, water could leak in the top corners. Though the liner seems highly water proof, if you need extreme waterproofing - I would go with one of those backpacks where the top rolls down. Otherwise, this pack seems to offer very good protection.

The bag is pretty waterproof. The only way water may come in is by the side flaps if they're not tucked in correctly. I believe the 2014 version of the bag has a bit more amped-up waterproofing. I'm just not sure w/biking and the bag moving around if water may sneak in the sides. Hope this helps!