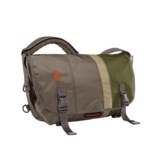 Closeouts. For pedaling through traffic or long airport waits, Timbuk2's D-Lux Race Stripe medium messenger bag delivers the ultimate in laptop protection, versatility and durability. The laptop love-glove sleeve has cushioned dimples for extra protection and interior loops let you customize the bag with modular inserts.
Average Rating based on
36
reviews
4.694444
0
5
Reviewed by Anonymous from salt lake city on Friday, August 9, 2013

Please please please, can I keep it?
I've never had a messenger bag before. And I'm not sure that I don't still prefer a backpack on my bike.
But this has every feature and more that a person could dream of.
...and it's waterproof, sturdy, well made. Cummon!, it has a top waterproofed zipper entrance to the laptop; and a Napoleon access to my cell, keys, and work badge (I don't have to open the bag to get to them.)
I rode into work with it, and found the extra strap kept it in place well.
but Im not sure I like all the weight on one shoulder instead of two.
Still, it's the nicest bag I've ever owned; and I'm not sure I can get myself to return it, even if I do prefer backpacks!
Maybe i'll hide it away for a Christmas present my hubby can give me. :)

i got the pink and black; and that pretty much seals the deal.

Timbuk2 is now my favorite manufacturer of backpacks and messenger bags. I'm buying one for my honey!

Reviewed by Angie from NYC on Sunday, March 24, 2013

This is a lovely bag. I ordered it from the picture and I was not disappointed. It's made very well and has all kinds of compartments and there are flaps which prevent the contents from getting wet in the rain or snow. However, I measure 5 feet and half an inch tall on a good day and it's just too big for me to carry. It's also slightly heavy even before I fill it with files, books, knitting, and nuts for the squirrels in the park, and the fabric is stiff so it doesn't bend to conform to my body, which would not be an issue if my back were as long as the bag. I heartily recommend this bag for looks, utility, materials, and high-quality construction, but not if you are small and want to carry it over your shoulder.

Reviewed by Music Man from Colorado on Wednesday, March 20, 2013

This bag is great. It's a good size for carrying papers, books, lunch, even a change of clothes and running shoes. The laptop sleeve is nice, so are the compression straps on the bottom of the bag. I'd recommend it!


Reviewed by Beth the Bag Nut from South Central PA on Friday, February 22, 2013

I love these bags!! Absolutely love them. I have the pink one shown and then the mahogany and tusk one as well. I also had the cement/algae/ star one too. They have pockets galore, a nice carrying handle, plenty of space, and great colors. They are bullet proof, water proof, and great for commuting. I bought the mahogany/wood grain one from the retailer, but the other two here - great savings on an incredible product. I had wanted a T2 bag for ages, and ended up with multiples. I also have several other T2 products I have purchased here and have never regretted any of the purchases I have made.

Verified Buyer

Reviewed by LeeLeeBeth from Niles, MI on Monday, February 11, 2013

I was ify about the inside pockets the way they were described but they are not what they seemed to me. This bag is very nice and I would recomend it to everyone. I am loving it! It has enough room for my laptop, purse, change of gym clothes, ipad and a couple lunch items. It is very heavy duty and I am sure it will last a while. I'm so lucky to have gotten this at a Great STP price! :D

Verified Buyer

Reviewed by Alda from Accra, Ghana on Saturday, February 9, 2013

Great product and great color combination (dark blue and purple). I love the bag and I am sure it will last a very long time. I have 2 Timbuk2 bags and I love them...

Verified Buyer

Reviewed by Brihaspatti from Virginia and Sri Lanka on Saturday, February 2, 2013

Working internationally including visits to farms, forests, and rural towns, I can carry all that is needed -- cameras, computer, iPad, measuring tapes, cans for soil and water samples, etc. I especially like the length and the possibility of variable width. By reducing of expanding the width, contents don't "bang around" when traveling. A few more pockets would be helpful. Friends are envious.

Verified Buyer

Reviewed by L Prof from Rochester, NY on Thursday, January 31, 2013

I was looking to replace a messenger bag I've had for the last seven years. I put a lot of strain on bags. They are usually packed full with student papers, my laptop, and tons of heavy books, and I travel frequently.

This bag looks like it will be perfect. It's extremely well made, waterproof, and the strap is extremely comfortable. I plan on commuting in with it when the weather gets nice. The only downside is that the inner storage compartments, while moveable throughout the bag (which is nice), are pretty firm and there's not a lot of pocket space for stuff other than pens. I squash my wallet and cellphone into the pocket underneath the top flap, but I wish the inner pockets were stretchier to accomodate stuff other than a thin pad of paper or pens. The bag is also heavier than my other bag, but I'm ok with that because it's much tougher and actually waterproof.

There's lots of storage space within the bag and it's wide enough to make up for the lack of a water bottle pocket -- the water bottle fits well inside even with laptop and books.

The laptop sleeve provides a lot of protection as well.

Finally, the price simply cannot be beat. I got this for almost half off retail and am thrilled I got such a great deal on a high quality product.

Verified Buyer

Reviewed by Dan from New England on Tuesday, January 29, 2013

I use this for work. My old timbuk2 was a little smaller. In the winter I like to toss in a pair of loafers for work.
The organization is nice, some of the compartments are attached by velcro and can be removed if not wanted. I like the ruggedness and roominess. It is large but it's not HUGE. It does not look like I'm carrying a suitcase. It holds a couple of textbooks, some notebooks, pens, pencils, odds and ends. It has straps inside that I think are for holding a travel mug or water bottle. I don't use them. The laptop section looks like it is secure and will serve for my ipad or my 15 inch macbook.

Reviewed by choren from Colorado Springs, CO on Thursday, January 17, 2013

I wanted to love this bag - pretty colors and well-made. Right now, I carry three bags (books, clothes and laptop) when I work and I wanted to change that to two bags, which is why I bought it, that and the "modular system" that lets you configure the bag. The modular components were two smaller pockets that could be attached to various places inside the main part of the bag. I thought it would be something that made the one big compartment into two smaller compartments. Wrong. My bad. I will be returning the bag and trying something else. It is a great bag, just not what I expected from the description.