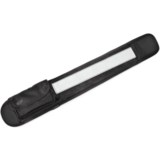 Closeouts. There's nothing fake about Timbuk2's Phoney strap pad, just a comfortable cushioning strap and an easy-to-access faux-fur-lined phone pocket.
Average Rating based on
10
reviews
4.100000
0
5
Verified Buyer

Reviewed by Nordic Princess from The Great Pacific Northwest on Sunday, June 22, 2014

This is very handy. I have a non-smart phone and it fits in perfectly, along with my transit passes. Works great with the medium bag I bought at the same time (by the way, the medium bag came with a strap pad, I moved that to my small bag that didn't have one). The huge reflective surface is great too. The only quibble I have is that it slides down too far in the back sometimes.

Verified Buyer

Reviewed by Nick from Nevada on Friday, May 9, 2014

Soft, reflective, and a comfy pocket for my phone. Now I can eliminate the pesky problem of whether to put my headphone cord under or over my bag strap. I'll put it on the strap, thank you.

Reviewed by Dragonwoods from Virginia on Tuesday, March 25, 2014

This is the Best strap for a messenger bag of any make. comfortable. pre-curved to sit shoulder well. Phone pocket fits the iPhone well, I don't use it for my phone. But keep lots of other stuff in there. I am very glad that Sierra Trading Post had some of them left.

Reviewed by MontanaKitty from Montana on Monday, March 10, 2014

This strap appears to have excellent velcro. It is a bit stiff but am sure it will break in with use. Like the pouch for the phone. Looks like it would be easy to get at when traversing a crowded airport with luggage.

Reviewed by MontanaKitty from Montana on Thursday, February 20, 2014

Other reviewers mentioned how stiff this is and I found it stiff as well. Hopefully in time, it will soften a touch. Haven't used it yet but do like the phone pouch that is attached. You just need to make sure to orient it corectly on the bag strap or your phone will be on your back and that is not handy! The velcro seems very stout, as if it will last a long time. Not sure this will work on bags with thin straps though. It's a fairly wide channel through the strap.

Reviewed by TS from NYC on Friday, February 14, 2014

I picked it up to replace a broken strap pad on a generic computer bag, and for a patagucci shoulder bag that didn't come with any strap.

It's *long*. Just note that it's almost 20'... which is awesome as you can shift the bag from side to back and there's still plenty of pad. The bad part is that, because it's so long, you might run into issues with the sliding buckle. If you've got the strap shortened so the sliding buckle is close to the top of your shoulder, then this strap may not fit.

The phone case fits an iphone 4. Haven't tried an iPhone 5, but my Galaxy S4 isn't even close. So I've got my headphones stuffed in there.

Good for the price.

Reviewed by Vt.Lou from Vermont on Monday, August 12, 2013

great strap fits on several of my TimBuk 2 bags.well made

Reviewed by Anonymous from salt lake city on Friday, August 9, 2013

returned.

Reviewed by Ricky Racer from SF Bay on Friday, March 29, 2013

The strap looks tough because the face is made of the bulletproof 1000 denier nylon that messenger bags are famous for, but I foresee major durability problems because the side that sits against your torso is a really loose mesh which is already starting to pucker and pull threads from the velcro on my jackets. Also, the high-wear areas around the edge of the phone pocket are a thin stretchy material that doesn't inspire any confidence. Right now the velcro and the padding are noisy when the strap flexes, though this should subside as it breaks in. Stitching quality is perfect.

Reviewed by Amy M from Twin Cities, MN on Friday, March 22, 2013

This makes my Timbuk2 bag SO much more functional! I bought the bag and strap for an upcoming trip to Kathmandu and Seoul, but have been wearing it around as a makeshift gym/diaper bag/ purse for the past two months. This strap makes my phone (an iPhone4 in a HUGE otterbox, by the way) really handy, as I can feel it vibrate through my sternum (sounds weird, but a great feature when you need a silent phone).