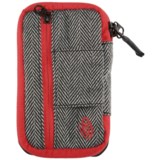 Closeouts. Timbuk2's Pinch phone wallet safely carries all your daily essentials in one place: cash, cards and phone. Its super-durable ballistic nylon construction stands up to rough handling, and the clear, protective phone compartment allows you to use and view your smartphone.
Average Rating based on
22
reviews
4.090909
0
5
Reviewed by Big Tom from Groves, Tx on Wednesday, November 11, 2015

I still use mine but be aware that if you have any cases on your phone, it will make for a tight fit. I like the wallet features and the phone touch screen can be accessed and used through the clear plastic. It is nothing spectacular but it gets the job done.

Verified Buyer

Reviewed by Anonymous from Pennsylvania on Tuesday, July 21, 2015

Like the clear plastic front for monitoring phone. Right size for my iPhone 4.

Verified Buyer

Reviewed by Richard Evans from Oregon on Thursday, July 2, 2015

I studied the dimensions carefully but my LG Ultimate 2 phone which has a 4.5" screen wouldn't fit. It is however a very good wallet with a sturdy zipper to stow your cards and cash. There's a separate pocket on the outside with a smaller zipper to stow change. No more lost change in my car seats! Since I don't use it for my phone I use the clear pocket for my business cards and it works very well. At a clearance price of $17 with shipping you can't go wrong.

Verified Buyer

Reviewed by Sasscat from Peoria on Tuesday, April 28, 2015

Great phone wallet - good pockets for credit cards and an outside zip for coins, etc. Separate window pocket for id and slots for bills as well.

Verified Buyer

Reviewed by I travel from Atlanta on Monday, January 5, 2015

Fits older I phones 5 and below. Nothing bigger. Will be returning mine.

Verified Buyer

Reviewed by dlewis78731 from Texas on Friday, October 10, 2014

I have an otter box commuter case on my phone, and I can just barely get it into the compartment. Using it while inside the wallet is not very nice, as the plastic cover over the phone is about 1/8" over the screen, so when you interact, you have to push the plastic all the way down to make contact with the screen. I think that without the case on my phone, it would fit into this wallet much much better, but in practical terms its too much trouble to take it out of the otter box case before using this one. My situation is that I put the phone in this wallet when riding my bicycle, but that's all I use it for. The rest of the wallet is pretty nice,and will hold a number of cards, cash, and coins. I like that the zip pull for the wallet section is distinctively longer, so its easy to know you are opening the right compartment.

Verified Buyer

Reviewed by DMM from Madison East on Monday, September 1, 2014

I have always needed two hands, one for my wallet and one for my smartphone. This convenient carry case handles both with slim efficiency and good looks. I can see my phone through the clear plastic window, and the wallet side has ample space for credit cards and ID's and a zipper for change. It also of highest quality, like all Timbuk2 products. Highly recommended. The only down side is that their is not a good spot for paper money. But money folds in the wallet just fine.

Verified Buyer

Reviewed by Rosh from flatlands on Saturday, July 26, 2014

There is something so simple and elegant about having my phone and cards, cash, ID, etc., all in one case. No more having the phone in one pocket and a separate wallet in another. I also travel a lot, and this case has been great for carry-on packing. This wallet has plenty of room inside for everything I like to lug around, while still being small and thin.

The phone compartment has a clear plastic cover, so you can see who is calling, and with Bluetooth in my car, I can just leave the phone in the case. Since this is a case, there's an added level of protection for the phone. I use an iPhone 4, and there is enough room for that or the iPhone 5. I would be careful about using some of the larger phones, so check the dimensions carefully.

The ONLY drawback to this case is that the plastic cover over the phone sometimes slows down being able to pull out the phone quickly...it tends to adhere to the phone glass. I guess there is one more consideration: With everything in one place, if you lose it or the case is taken, you lose all your valuables at once. But, becasue everything is together, I tend to be more conscious and careful now with the case as a whole. Regardless, I have found this wallet very useful and a big improvement over my old way of carrying all this stuff around!

Verified Buyer

Reviewed by CJJ from Indiana on Wednesday, July 16, 2014

This small phone wallett is just that! Small/wallett/phone carrier. Great quality!
Super deal for price. Perfect for a couple of cards/id/& even a Chapstick!
The phone ACTUALLY works through the clear plastic! Only downfall is that
The phone sticks to the plastic window when trying to remove from wallet. Awesome material too!

Verified Buyer

Reviewed by Vt Lou from Vermont on Saturday, April 19, 2014

I have a lot of Timbuk2 bags, cases luggage etc. Well made. Though this case is just not big enough for the iphone 5c. Abut half inch to short. Its made well.