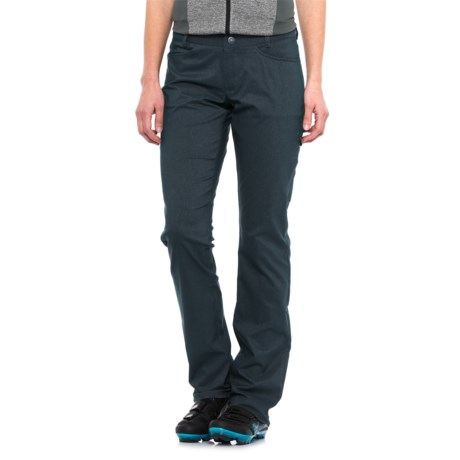 ride to work and keep your composure pant
Reviewed by spychic from alexandria va on Monday, January 22, 2018
on bike: maybe will not expose the goods if using a belt since the waist while not low,still fell and needed tugged up. even exposed myself in a classroom where a student was on the ground and i had bent over to speak with him. the reflective trim was well sewn and they rolled up easily and stayed put. the fabric is a not quite middle weight but it's actually heartier than lightweight layers given the water resistance since in 80 degree whether it was a little warm. the one zippered left leg side pocket is a little too far down on the leg to access while pedaling. i could get the cell from the pocket easily, but returning it required slowing down and using 2 hands on the zipper. not effective in traffic, so i'm hoping this gets easier to zip with use.

off bike: these pants are cut almost exactly like my JCrew or Lands End style chino's and they stretch and look quite presentable. if they made them in basic colors like black and grey and navy, no one would know the secret reflective strip existed and they're actually an on bike performance pant. I opted out of riding in the rain with them today b/c i don't like arriving to work wet -- water does get in no matter what and the commute is much slower on rainy days -- but they seem sufficient for light showers, though all the coatings wear off over time. i just couldn't get over how composed they were. they won't wrinkle like cotton. but are very presentable. planning to wear them rolled up (to look less jean like) with hard leather Fry penny loafers tomorrow. fit: i wear between 10-12 in Lands End and JCrew chino pants, but usually they're baggy. these are a semi fitted cut, but they look quite nice. i should note, i live in a mostly flat area but for a giant hill climb on the routes home, so my legs and butt are not typical biker big.

after 8 hours, they remained pretty close to wrinkle free after a 6 mile ride then sitting during portions of my day. i also believe the resisted odors enough to where i can possibly get away with a 2nd ride in them. am atypically less sweaty and smelly though the gamey odor is no stranger, these pants smelled like new fabric after one ride.

plz Club Ride, come out with a few more work friendly colors - black, grey, brown, ruby. now that my boss said "no shorts" am scrambling to supplement my wardrobe.
Most helpful positive reviews
Most helpful negative reviews
Similar items and more information in the following areas: