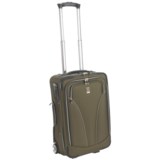 Closeouts. The choice of flight crews and seasoned travelers worldwide, Travelpro's Walkabout Lite 3 expandable suitcase is fully loaded with features to make any trip roll a little smoother. The removable suiter keeps dress clothes wrinklefree, and numerous pockets help organize life on the move.
Average Rating based on
14
reviews
4.500000
0
5
Reviewed by twinsue from Seattle, WA on Sunday, January 5, 2014

Except that the top of the suitcase doesn't have a zippered compartment, I liked this suitcase enough that I bought another for my sister. The price dropped 20% and while that was nice for my sister, it made me feel a little cheated as discussed below.

What I don't like is the moving target of discounts that pressure the purchaser to "buy now!" because the same discount or s/h charge will change tomorrow. Items for which the discount has decreased after being available for less,just makes me decide I am not going to purchase it, even if it's gone up just a few dollars.. I feel too manipulated with the 47% today, 20% the next, and 30% the day after that. I understand the marketing strategy, but it is irritating and makes me not want to "play the game."

Reviewed by Dina Kap from Maine on Friday, January 3, 2014

Very well made, attractive, super light weight, and east to use. My new BFF of the suitcase world.

Reviewed by twinsue from Seattle, WA on Saturday, December 28, 2013

I am reluctant to review as I haven't used the suitcase yet. I was disappointed that the top doesn't have a zipped netting section, but a suit folder holder. This isn't something I want or need. It also has no intererior cloth bags that attach to any of the walls for small items. Having neither of these features to which I am habituated, I will have to pack separate ziplocks or other bags for scarves, nylons, etc. But the bag appears well made and, based on my sister's experience with an ages old travelpro, I look forward to years of good use. In fact, after it arrived, my sister checked it out and ordered one for herself as hers is near the end of its useful lifespan.

Reviewed by Lizzy's Mom from Michigan on Friday, December 27, 2013

Excellent quality compared to what my husband had before.

Reviewed by sami of the north from North Western Washington on Friday, December 20, 2013

I have purchased this second Travelpro carry-on after many years of happy traveling with the first. Travelpro maximizes carry-on space with sturdy wheels and handle. Enough compartments for what one needs, but not so many as to be confusing. Tasteful olive-gray color is subdued but distinguishable in the sea of black bags that usually circle the carousel waiting to be identified by their owners. Though not the lightest bag on the market, the extra weight is worth it because this bag will last.

Reviewed by Atom Ant from Maryland on Saturday, August 17, 2013

Optimistic that this carry-on size suitcase will last a few years. Nicely made and designed. Expansion would make it too big for carry on, (I think it would be too deep) but great for local travel. There is ample room without the expansion for air travel. Made it onto Air France, which currently is among the more strict airlines for size of carry on luggage. Oh, and it is nice looking!

Reviewed by K8 from Monterey,CA on Sunday, August 11, 2013

I travel every week. After deciding that my old case could not survive another flight,I ordered this suitcase. I am so impressed with this product! It looks and feels high quality. The zippers are smooth and I love the mesh pockets built into the case. So far,I have taken it on two trips and it has been great! I'm so glad I got this product

Reviewed by Active boy from Oregon on Friday, August 9, 2013

I am a fan of Travelpro luggage and this did not dissapoint: well made, stylish, pleasant color, easy to spot among all of those black ones on the carousel.

Reviewed by Julie from Minnesota on Monday, June 10, 2013

This suitcase is just as stated by the product descriptions. I gave it four stars because I don't know if I will be able to use it as a carry on. There were varying opinions about this. I will easily be able to pack for a week's travel.

Reviewed by Suse from Indiana and all around the country on Sunday, June 2, 2013

This piece of luggage is truly awesome.It has an insert for a suit or any clothes you don't want to wrinkle.It has many compartments that are expandable.The price was great! The wheels are terrific, and the handle is very good for me, and for all different heights. It seems to be very durable.