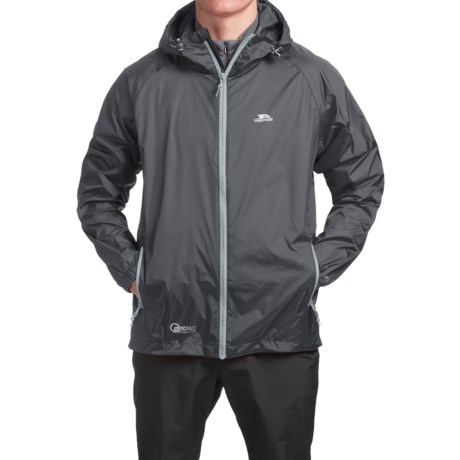 I'm a 5'2" female with, shall we say, ample hips. I ordered the large and it fits fine. Goes around my hips and zips up. Plenty of space in the shoulder area. If you like a snug fit, a large might work for you. If you will wear it over a sweater or other layers, or just like a looser fit, XL would probably work better. These guys are good about exchanges, so take your best guess and go for it. I'm looking forward to the predicted monsoons this year to give it a try.

This ran small. I would recommend you try the L unless you want it very tight fitted. The shoulders may be too narrow for you. Good luck and hope this helped.

Don't buy it at ALL..not for REAL rain

Reviewed by Sarah Yuster from Staten Island on Monday, March 30, 2015
I read reviews and like the price, the look and thought this would be perfect for my daughter who was going to live on a research station in the Amazon Basin in Ecuador with other bio conservationists.

She was excited as the living would be quite rustic but shhe was doing the work she wanted. I felt terrible when she told me, after returning home six months later that the jacket easily soaked through. Initially it was repellent, but could not stand up to real rainforest conditions at all. I wish I'd known this beforehand...would've spent more so she could have been comfortable.

I tested it out afterwards, wore it out in a driving NYC rain and it did ineed soak right through

My husband is 5'10' and about 160 lbs with broad shoulders and long arms... he got a large and it's perfect.

The medium is plenty roomy on me, a 5'9" 155 lb female. I do not have broad shoulders though...

I bought it for a women so had to say. It is definitely in a men size. She is 115/ 5'3 and I bought an extra small. It is not a fitted look- lots of room
around the bottom etc.

This item is sized based on chest size. If you hover your mouse over or click on the sizes the corresponding numeric size will be displayed.

I'm shorter, but with about the same bulk: 160 lbs, 41" chest and the Medium is an excellent fit for me.

I am 5'9" and 165. I wanted room for a couple layers under the jacket. I got a Large and it worked great ... T-shirt, Running warm-up jacket and then the rain jacket.