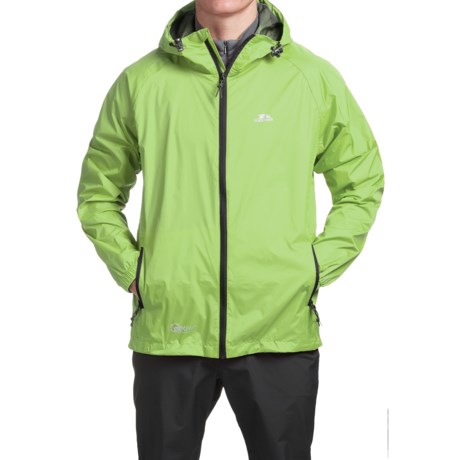 I bought the blue version and it's very bright. I use it to bike in the city as well.

The green trim isn't exactly reflective but it does stand out to provide a bit of contrast.

Reflective qualities of this jacket are pretty minumal. I bought it to carry with me should a downpour show up. If it is already raining, I have another jacket. The Qikpac is light, a small package, and does have decwent ventialtion for the price. I pack it into my waste belt for running or light backpack for biking. I use flashing lights for reflective protection. Thanks, Bill the Runner.

There are no reflective qualities. I bought the bright green one for that very reason. Wanted to be seen on a dull, rainy day.

Not sure. It is possible that the logos are reflective. They are located on: the upper left side of chest, left side on upper sleeve, left shoulder blade and lower right front side. Just tested with a flashlight in hallway with lights off and did not really jump out. Hope that helps.

I would say not very reflective at all in the black that I purchased. It is nice and waterproof though!

No reflective qualities at all.

There is glow in the dark piping on the zippered portions of the jacket including the pockets. The inside of the hood is also the same. Works great in wet weather. I also have the pants which are black only.

I'm not sure of what you mean exactly, however it does not light up when struck by direct light.

I use it only in daytime.

I have the black jacket with green accents. There are no reflective qualities.

I don't know what reflective qualities are. My guess would be whether the jacket reflects or absorbs warmth from the sun. I have only worn mine on actual or anticipated rain days when temperature was not high. I think that if it was warm enough for the jacket to generate heat it would be warm enough to take it off. It might be useful if using as a windbreaker to prevent body core temperature loss. It is rainproof my primary purpose in purchasing. Mine was on sale and a great value for the price.

not aware of any reflective qualities with this jacket. haven't noticed any in the several months I've been using (and enjoying) it.

none!