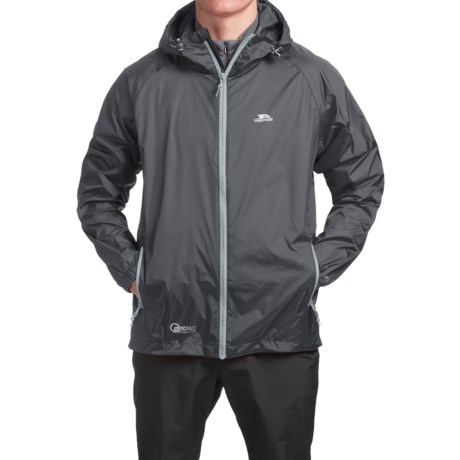 Don't have the dimensions, but it's very compact. Of course the real trick is getting It back into the stuff sack once you get it out.

You can probably squeeze it down (and maybe more-- it's very soft) to about 7"long x 3"high-- that's for a large jacket.

The stuff sack with the jacket is small - probably about 9x5x5 and if packed tightly with other things can squish down even more.

it's probably around 6" long with around 3" or so diameter - I'm going from memory. I was able to stuff it into the little bag with some effort. It was pretty tight though.

When you fold it up it compresses differently depending on how you do it. If you try three times the size of the bundle is somewhat different each time. So, in order to not mislead you it is strongly recommended that you contact the manufacturer for the parameters that you seek.

Sorry.

Very compact. The stuff bag is 8"long x 6" wide unstuffed. The jacket fits in very snug. Mine is a size small. Hope that helps.

i don't recall having a stuff sack with this jacket. however, i can crush it down to a ball about 7 to 8" in diameter.

Approx: 7"L, 3" Dia

This jacket fits easily into the bag that comes with it. It is about 10 inches long and maybe a 4 inch diameter in the cylinder shaped bag. Quite a handy little package that I slip into my bike-bikepack or my Camelback water pack when rain threatens.

It's very compact. I can't mesure exacly, I would say 25 cm long. Hope that's helpful.

The jacket I bought was a Small. It fit fine in the pack which is about 7X4X4 aprx.

According to the product overview above: Included stuff sack size: 8 x 4"

It compresses to a cylinder, approx 7"x4". Hope this helps.

Sorry for the delay. We bought these jackets for the Galapagos Islands and just returned. The jacket comes with a stuff bag measuring 6.5" H x 12" circumference. We used these a lot on our trip. This is a great deal!