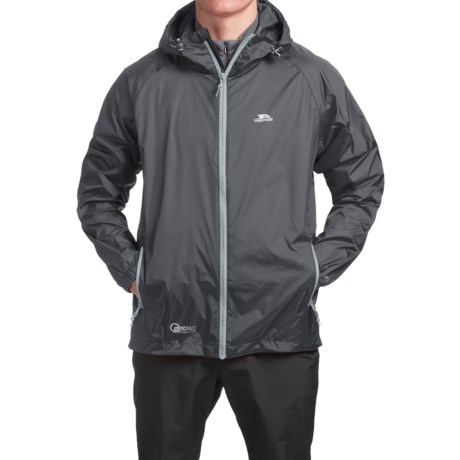 Sorry, it's nicely rolled into it's pouch and don't want to deal with taking it apart. But I'm pretty sure it's not "lined". I believe the inside is the same Trespass proprietary fabric as the outside; waterproof, windproof and breathable. If you're looking for warmth, this isn't it (but of course can layer for some degree of warmth.)

This jacket is a shell, it is unlined.

It is unlined. It does have a mesh in the hood and small section on inside back of jacket, mines lime green.

It's not lined with anything except for the hood has a mesh lining. it's light weight not for cold weather.

This jacket is a minimal shell and has no lining. It is designed to pack into a small bag so it can be carried in backpack or trip bag in case ran threatens. It is not designed for warmth but only to be a safety shell in wet weather.

It doesn't have a lining but it is fully waterproof, breathable and has wind proof properties. It is well made, compact & comfortable. Easy to pack the jacket & pants into the individual pouches.

This jacket is unlined.

No lining.

It's not really lined. The inside of the fabric is like a waterproof membrane.

NO lining. The whole idea is to keep weight at the bare minimum perhaps for emergency use. Jacket packs into the size of about two beverage cans.

It is not lined. Provides waterproof protection not warmth. Great thin shell and super packable.

No liner.

The hood part of the jacket is lined with a mesh material, but the rest of it is not lined.

The jacket is not lined, it is a single layer of nylon with a shiny water resistant coating on the inside.

Think it it unlined. It is very light weight. Not for cold weather. Great for spring rains.

It is only the jacket itself, the inside is just a bit slicker. The material is somewhat thick but I would definitely where it as part of a a layer in cooler weather. If it is just raining and warm, then it breathes well as long as it has some give. I highly recommend getting the jacket in a next size up for layering purposes.

this jacket is not lined. it is a waterproof jacket but not insulated in any way.

Parts of it are lined with polyester mesh fabric. The rest doesn't have an obvious lining, but I think that is because it's bonded fabric so the lining is bonded to the outside shell. The lining inside is probably what they are calling Tres-Tex® waterproof breathable membrane. The jacket overall feels very thin and light and comfortable and flexible yet it is completely waterproof and breathable. I got it for my husband and he says it is perfect to stuff into its little stuff sack and keep in his backpack for unexpected rain. It is not insulated but you can easily put it on over any other jacket or sweater to protect against wind or water.

No lining.

This item is not lined.