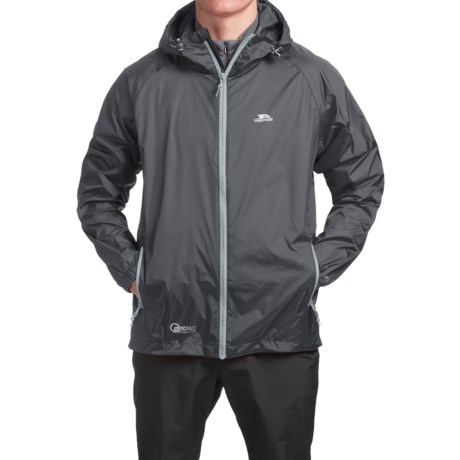 This jacket is a light weight packable shell. It could work for you in cold weather if your other layers were more appropriate for the weather - i.e. wool layers. But don't use this as your main jacket for cold weather.

In my opinion If the outside temperature is 50 to 65 degrees this would work well as a outer layer jacket over a tee shirt and a polo shirt over the tee. I wear the Trespass' Qikpac jacket over my polo shirt mainly at night when the temperature cools down to 65 to 70 degrees. It is mid July and I wear the Trespass' Qikpac jacket until the end of September or mid October. I live in Northern Utah and the weather can be moody. I bought the Trespass' Qikpac jacket a couple of years ago and recently purchased a second jacket. I'm pleased with both jackets.



IT IS AIRTITE BUT DOES NOT HAVE INSULATION. IF YOU WORE SOMETHING WARM UNDERNEATH , YOU COULD USE IT AS AN OUTER LAYER.

Yes, purchased these for a trip to Alaska/Canada in May 2016. We used them as our final layer of clothing on the boat to see the glaciers,it was a cold day but did spend time on deck in heavy swells ,wind and cold.The jackets did well and are waterproof but remember to purchase larger size for layering.

Yes, I have worn mine skiing and snowmobiling as an outer layer in 45-55 degree temps. If it is really cold, I would recommend something heavier. This jacket goes every where with me from Hawaii to the mountains....a must have. I highly recommend.

Yes indeed it would and I've used it in that way, too. Mine is loose enough to wear a hoodie or bulky sweater underneath and I am totally warm then in chilly weather.

It would keep you dry in hard rain storm, no warmth added with this jacket. Cold weather is relative. As long as it is not cold enough to snow and just rain it should provide the protection with ample under-layers. I do not use it in Utah cold weather.

Yes indeed it would and I've used it in that way, too. Mine is loose enough to wear a hoodie or bulky sweater underneath and I am totally warm then in chilly weather.

Yes, particularly in cold wet weather. I bought mine a little large so I could use in it this way and it works well.

If you wear the Tespass Qikpac Jacket over a heavy sweater it would probably be comfortable down to 40 degrees. It does stop wind very effectively and retains quite a bit of heat and still breathes. I was very comfortable in jacket with a very light sweater in 50 degree weather and moderate wind.

This jacket is rain and wind proof, warm but not insulated. If you have a heavier layer beneath it should keep you warm plus shield from the wind and keep you dry. It is now for snow and heavy winter wear. We used it in Hawaii for rain & wind, it breaths and is unisex so works well for my husband and myself. Comes with a nice bag to pack it in when traveling.

Yes, this should work well as an outer layer.

Probable not..........extremely light weight. I bought to have in my golf bag for unexpected rain.

Not especially except as a wind breaker. The garment is very light which makes it a packable rain parka.

I have worn mine over a fleece jacket and have stayed fairly warm. It holds in your body heat well for being so thin but you need something warm underneath.

Any additional layer, including newspaper, helps insulate, but I wouldn't use this in cold weather. Perhaps as a light windbreaker it'd be OK. The "breathable" aspects means that it has slits/openings not that the fabric is breathable.

It is a good wind break and I have worn it over polar-tec on cooler evenings in Minnesota but do not consider it cold weather outerwear.

It is a bit lightweight for an outer coat. However, it blocks the wind very well.

I think it's not enough stop the wind in cold weather. I likes to wear this jacket in all season except Winter, it's a good quality, cutting and light packing.

I'm so sorry to reply you late because of my travelling at that moment.